Let me tell you about Cat, a blackbird and breakfast. Cat is a backdoor cat. She turned up several years ago and now lives in an old wooden cabbage crate. When it is cold or wet she stays inside but, like her African cousins, she prefers the elevated position on the top to survey the goings on in the courtyard. Blackbird lives in the winter flowering jasmine a swoop and a glide away from the back door. She is feeding her second brood and dried cat food is tasty, available and beaksized.

Today, Cat is disdainful of bought dried food. She is considering something fresh for breakfast and her half full bowl is good bait. The morning is pleasantly warm and she appears to be asleep. The intended breakfast has found the bait, has filled her beak and flies off well pleased. Cat is also well pleased because she is not really asleep. She comes down from her box. Blackbird returns. Does she not notice that the hunt has begun? The all powerful predator advances but the proposed victim keeps hopping just out of reach until they are both past the rosemary bush where blackbird flies off with a loud warning call. Thwarted, Cat sits down to a dedicated session of washing, which was,of course, her original intention. Blackbird may appear to be frightened but her plan has worked and she flies around` the back of the garage and returns to the bowl to enjoy an undisturbed breakfast.

And so, hour by hour, day by day life goes on in this little part of Suffolk. In all our lives there is a continuous manoeuvring and repositioning: there are successes and failures; we are determined on one matter and acquiesce in another. Jesus knew this when he spoke with his disciples in his last days. He did not get on a podium and rally the troops with trumpets, banners and. stirring rhetoric. Instead, he condensed all his ideas, all The Ten Commandments and all The Law to these words: love one another.

We have just had the Church Fete Season. Many people work for hours, even days, to keep these going. There were wonderful flower arrangements involving much planning and preparation but the church was not always full; some looked after games and stalls but were not always busy; some mowed huge areas of grass; some did mountains of washing up and then there was all the clearing up. Most of the people involved would not normally do this on a weekend, indeed many only rarely come to church but because they give their time freely they are doing it for love; they are loving one another.

In the courtyard, mother blackbird's life continues on a knife edge. She had an accident and spent days hopping around on one leg only but now she is back on two and more cheeky than ever. Life goes on for us as well.

Some of us may go to church and worship collectively but at the end of the day we stand alone, for our relationship with God is entirely individual. So, if today, we cannot achieve the 'Grand Scheme', let us make sure that at least each step we take, each situation, each part of our journey reflects the unconditional love of Jesus: we can do this by giving freely of our time to help each other. May the Lord bless you.

Ian Dickson.

From the registers


We welcome
Lewis Michael Bell, Olivia Jane Martin-Smith, and Tessa Buxton, who were baptised in Offton Church on 18th June.
May they grow in faith


Farewell to
Dorothy May Hynard who died aged 95 years and was buried in Offton Churchyard on June 27th

Also to
Colin Robinson of Springfield Road, Somersham, who died in hospital aged 67 years. His funeral took place at Ipswich Crematorium on July 5th and his ashes will later be interred in Offton Churchyard. Our sympathy goes out to Anne and Jeanette, and his many friends.

Also to
Phyllis May Hudson, who died at Bethesda Eventime Home aged 96 years. She lived for some years in Springfield Road, Somersham. Her funeral took place at Ipswich Crematorium on July 10th and her ashes will be interred later in Ashingdon Minster churchyard. Our sympathy goes out to David and Joyce, her grandchildren and great grandchild.

May they rest in peace


Mother's Union

After a break for the summer holidays we will look forward to catching up with our friends from both our own meeting and also the ladies of Somersham Baptist church who have invited us to join them for their Anniversary afternoon. This will be on Friday, 8th September at 2.30pm and transport can be arranged by ringing 658330.

By the time we meet at the end of the summer some of us will have been up to Boston to visit our old friend and Indoor Member, Maisie Race. We remember and speak of Maisie at every meeting and usually someone has spoken to her on the telephone and can give up-to-date news of her. Likewise our other indoor member, Janet Woods is always in our thoughts and prayers and we realise how much we value our continued contact with them both. Although they cannot attend our meetings now we feel they are truly still members and friends – no friends like old friends they say! Certainly it is good to share memories with people who have walked the same path over the years – and there is always plenty of that at our meetings! Come along and see!


---
Offton Flower Festival
These are just a selection of the beautiful exhibits at the Flower Festival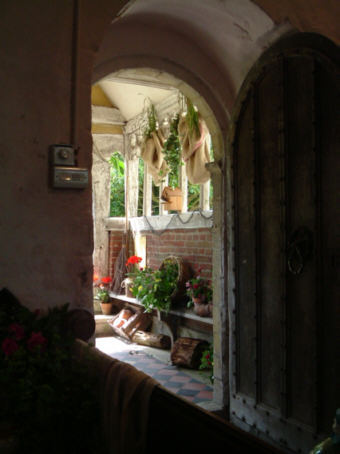 The Tales of Beatrix Potter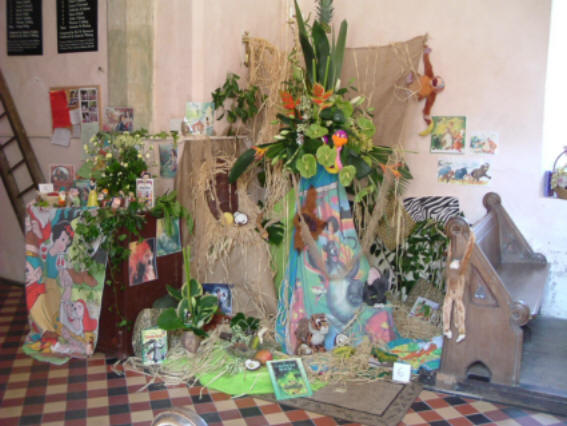 The Jungle Book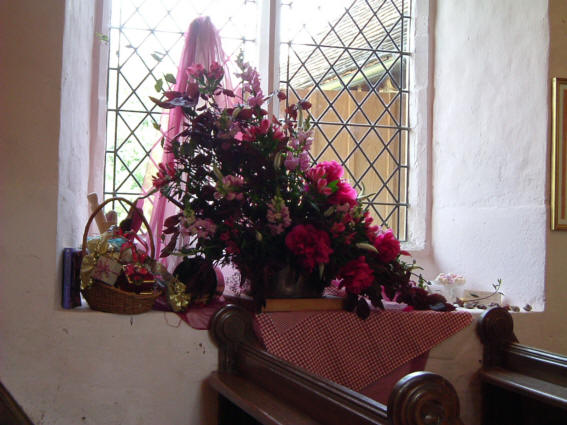 Chocolat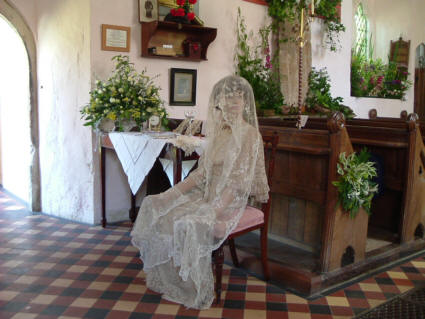 Great expectations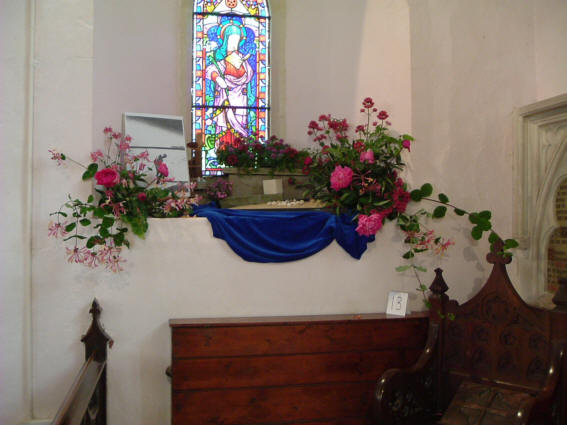 The Shell Seekers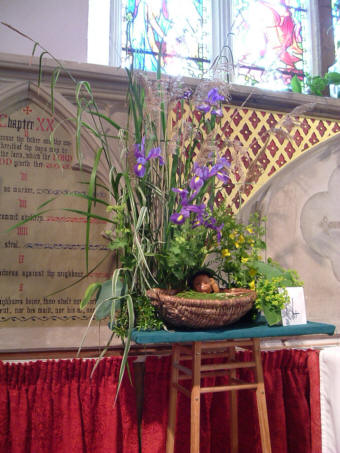 The Bible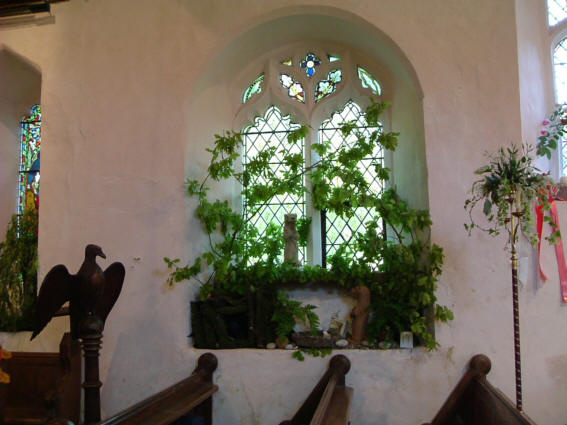 Ring of Bright Water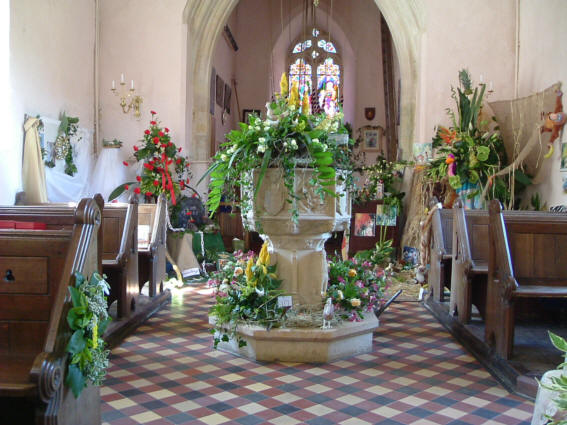 Counting my chickens
---
Wool please!
You will remember no doubt that we asked you to look in the dark recesses of your cupboards for leftover knitting wool for our friend, Janet Woods. We are delighted to report that many of you responded and Janet is most grateful for all the lovely wool you have passed on to her and would like to thank you very much indeed. Thanks also to Christine Jarrold who collected up all the wool at the hairdressers in Somersham and passed it on to Janet for us.
It will never be too late of course for more to come in – Janet is knitting continually for charity. Just a reminder that it is double knitting wool she uses mainly.

Church Flowers and Cleaning Rota

Somersham
July 30, August 6 Christine Cooper
August 13, 20 Christine Jarrold
August 27, September 3 Judith Newman
September 10, 17 Frances Southgate
September 24, October 1 Angela Osborne
October 8, 15 Lois Warren and all help for Harvest on October 8th
August cleaning Team B
September cleaning Team C

Flowton
July 30, August 6 Mrs Munson
August 13, 20 Mrs Laflin
August 27, September 3 Mrs Fawcus
September 10, 17 Mrs Crick
September 24 Mrs Carter
October 1, 8 Mrs Grimwood and all help for Harvest on October 1st
August cleaning Mr and Mrs K Grimwood
September cleaning Mr and Mrs P Ward

Offton
August 6, 13 Mrs Maartje Rondeboom
August 20, 27 Mrs Sue Pryke
September 3, 10 Mrs Silke Pinson-Roxburgh and all help for Harvest on September 10th
September 17, 24 Mrs Sheila Pinson-Roxburgh
October 1, 8 Mrs Elaine Martin
August cleaning Mrs Maartje Rondeboom
September cleaning Mrs Silke Pinson-Roxburgh

Willisham ---flowers and cleaning
August 6, 13 Miss Taylor
August 20, 27 Mrs Cage
September 3, 10 Mrs Large
September 17, 24 Mrs Hodson
October 1, 8 Mrs Gilson and all help for Harvest on October 8th


SOMERSHAM
CHURCH NOTES

There will be a full report of the Summer Fete in the next Link, but what a wonderful afternoon it was! A very big "Thank you" to Sally and John for the use of their meadow and sorting out electricity and water supplies, also to other members of the Caston family for all their help. We had lots of volunteers offering to help on the day, which was very much appreciated, and thank you to everyone who came to spend their money! We'll have the exact figure for the next Link, but it is around £750, a truly superb amount. THANK YOU!!
There will be another opportunity to hear and enjoy local bands at a Folk Evening on Friday October 6th. Our talented local performers will have a different selection of songs and music to entertain you, so make sure you get your tickets early! See ad for more details.
A Trivia Quiz is planned for Friday November 10th, with the usual format. More details in the next Link.
*********************************************************
From Vivienne Mumby:
I would like to say a big "Thank you" to all my family, friends, neighbours, in fact everyone, for all the cards, flowers, presents and messages for a speedy recovery, following my two recent operations. You have all been so very kind and thoughtful, and it has all been very much appreciated.
I have now been given the "all clear" pending an appointment with my surgeon in 6 months' time.
Once again, thank you all so very much.
Love from Vivienne
***************************************************************
Somersham Parish Council
Forthcoming Parish Council Meetings
Wednesday 6th September – 7.30pm – Committee Room, Village Hall
Wednesday 4th October – 7.30pm - Playing Field Pavilion
Wednesday 1st November – 7.30pm - Committee Room, Village Hall

Emergency Plan
The Parish Council is currently putting together an Emergency Plan for the benefit of all residents in the event of any type of emergency. The minimum objective of the plan is for volunteer co-ordinators to be in possession of a list of resources available, e.g. medical personnel, generators and also a list of those most vulnerable, e.g. the physical disabled or the elderly. It may well be that a questionnaire will have to be distributed to each household in the future to help identify the needs and resources available. More information will follow in the future, but if you would like to help the community in putting this document together please do contact the Parish Clerk who will forward your name to the council.

Suffolk Handyperson Service
A safe scheme has been launched by Suffolk County Council to subsidise repairs for Suffolk residents which will be available to anyone aged over 65. If you are over 75 and on means-tested benefits, the labour will be free, but will be charged at cost for people aged over 65. You can provide your own materials, or they can be purchased at cost if required. Examples of work they can do: securing carpet, fitting curtain track, replacing taps or washers, fitting locks, plumbing in a washing machine etc. So if you need someone you can trust for small repairs, or just an extra pair of hands for that awkward job, contact 01473 228678 and ask if they can help.
New Parish Council Notice board
You may have noticed a new notice board which has been erected on Brook Green near the end of Brook Way, fronting Main Road. This notice board will give the parish council the opportunity to display minutes and other notices in full, as there is insufficient room to do this on the parish notice board outside Barn Stores. Unfortunately only parish council notices can be displayed on the new notice board.

Affordable Housing
Do you feel affordable housing is needed in Somersham?
In recent years concern has grown over village life, where communities have been threatened because, among other things, local families have been unable to obtain suitable homes. This affects mostly younger people who cannot afford local prices and often there are no suitable homes in the village anyway.
It is possible for a community to create a local housing needs scheme which results in a small housing development solely and permanently for local people. Also, arrangements are made to enable local people to afford the housing. This can be done by shared ownership arrangements or renting.
The council would like to investigate this issue and in order to make a start it is necessary to carry out a survey of all residents in order to find out what the needs of the people of Somersham are. We will need volunteers to help with this survey and if you would like to help in any way please contact the Parish Clerk.

Finally
Do enjoy the summer break, but do not forget the dangers of the sun and use plenty of sun cream. We will be back again in the autumn.
Janet Clarke
Clerk to the Council

Tel. No. 01473 830398 E-mail: janetinclaydon@aol.com

SOMERSHAM/CHALLAIN-LA-POTHERIE VILLAGE LINK
After a very successful visit to Challain-la-Potherie in May, we are now starting to plan for our French friends to come over again in May 2007. We will be holding a social evening on Friday 15th September in the Pavilion at 7.30pm, when there will be opportunity to see photos of previous visits, share ideas on places to visit etc. If you would like to get involved, or just want to find out some more information, do come along; you would not be committing yourself to anything!
Gill Fordham: 831529; David Haughton: 831511;
Janet Hodge: 832296 ; Pat Woolhouse: 83180


From: PC David Clark
our
Community Beat Officer
Tel: 01473 613500
Notes From
Your Community Police Officer
PC .466 Dave Clark
Hello again I'm sure if I mention the name Pam Smith, even if you don't live in the Ringshall area you have probably heard of our Pam …she has done a fantastic job for the last 15 years running the Neighbourhood Watch Scheme . So it was great news when Pam was recently given an MBE in the Queens Birthday Honours for her services … well done Pam ....nice to see some one who gives their time and enthusiasm as you do, get the recognition you deserve …

As the weather improves it is very common for windows to be left open for ventilation …please bear in mind that an opportunist thief will be on the lookout for vulnerable premises…I have been to houses which have been entered in this way when the occupants have only been in the next room !!

HORSE ATTACKS: There has been a nasty spate of cruel attacks on horses being reported across the country – some of the incidents involve acts which defy description. Our county is not immune from such sick offences as two horses in a field in the Boyton/Hollesley area -, both sustained cuts in what are believed to have been separateincidents. A three-year-old horse was found to have a cut to its leg on Sunday, 4 June, and a young foal was found to have a wound to its leg on Wednesday 7 June.
If you live near stables or fields where horses are kept – be aware that not all those paying attention to them are animal loving upright members of society

If you have any information or would like any advice on police matters I would be more than happy to discuss this with you. I can be contacted at Stowmarket Police station on 01473 613500 or by email david.clark@suffolk.pnn.police.uk As previously Pc Sally Parkes will be my deputy – she can also be contacted on the above telephone number or sally.parkes@suffolk.pnn.police.uk Please remember that there are occasions when I am on rest days for 4 days so if your call is of an urgent nature please ask to speak to an officer on duty.
Thanks very much.

PC 466 Dave Clark
Thank you
PC David Clark
01473 383390 Stowmarket Police Station
01473 613500 Police Headquarters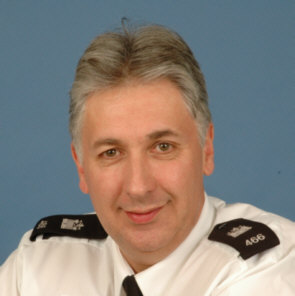 PC 466 David Clark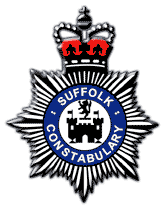 To go to the Suffolk Police web site please click here
To go to the Neighbourhood Watch site of Suffolk Police click here
Somersham CSC
The first league match in June (on the 13th) was the match with Great Blakenham in the South-East Division 1 which should have taken place in May but was postponed due to the weather. The final result was a fairly comfortable win for Somersham by 88 points to 71.Gary Brown and Richard Williamson both scored paid maximums with Barry Copping and Peter Mittell also double-figure scorers.
June 17th saw the final Regional Round of the Wosskow Brown British Youth & Junior League take place at Ipswich. There was Somersham representation in the Under 8's where Joe Hodge scored 10 points to qualify for the "C" final where he finished last. In the Under 10's Morgan Borrett scored 13 points to qualify for the "A" final where he finished last.Jake Copping also rode, scoring 5 points and finishing 3rd in the "D" final.
1 week later the British Under 19 Individual Championship took place at Norwich. With 22 riders entered a pre-qualifying round was necessary (which was refereed by Steve Copping,his 1st significant event) and Andy Mittell qualified comfortably for the final at the 1st attempt. In the final itself 17 points from Andy was enough to see him deservedly win the title having missed the 1st 2 months of the season with Glandular Fever. It also means that once again Somersham Cycle Speedway Club has a British Champion in its ranks. While that was happening Andy's father Peter was riding in the European Veterans Scottish Grand Prix at Edinburgh where he finished 3rd in the Super Vets category.
It was back to Norwich the following day for a South-East Division 1 League match but despite 19 points (plus a bonus) from Andy Mittell and 18 from Gary Brown Somersham lost 74-86.
2 days later Ipswich came visiting in Norfolk & Suffolk League action where we would be without Dave Palfreyman but new signing Will Kitcher made his competitive debut in a match which we lost by 1 point.Gary Brown scored 21 and a bonus, Andy Mittell scored 20 plus 3 bonus (dropping only 1 point).
The following day saw the 3rd round of the Suffolk Grand Prix for Under 9,11 and 13 riders at Kesgrave and there was Somersham representation in the Under 9's with Jack Barnes scoring 13 points, Morgan Borrett 12,Fraser Borrett 10 and Joe Hodge 4(all from 4 rides).
Among the August events:
Wednesday August 2nd-final round of the Suffolk Grand Prix for Under 9,11 and 13 riders.
Saturday August 5th-British Open Club Championship at Ipswich
Sunday August 6th-Ipswich visit us in a South-East Division 1 match August Bank Holiday Weekend-The British Individual Championship takes place in the Manchester area. The Copping brothers have entered so there will definitely be Somersham representation.
Thats it for now

Steve Copping (sjccopping@aol.com)
Club Secretary:Peter Mittell 01473 831474

www.btinternet.com/~SomershamCSC
Midsuffolk Action in Partnership:
Supporting our Voluntary Sector
www.midsuffolkaction.co.uk
ARE YOU an employee or volunteer of a voluntary organisation or community group? If so, Stowmarket based charity Midsuffolk Action in Partnership (MAP) could help you. We provide help and support to voluntary and community organisations in Mid Suffolk in a number of ways:

Accredited Training Courses
Free Informal Training Courses:
EMPLOYMENT LAW UPDATE
Funding Surgeries
Meeting Room and Office Space
Help and Advice Service For Voluntary and Community Groups

If your organisation needs help with anything, contact MAP. We might not be able to always help directly but we will almost certainly know someone who can from our extensive list of contacts.
Help us To Help You By Becoming a MAP Member
It costs just £8 for a voluntary/community organisation to become a member of MAP. It is not necessary to be a member to use our services but a strong membership makes us a stronger organisation and will help us to improve our work and increase our capacity. Also members are able to obtain certain services at a reduced rate. Contact MAP for details on how to become a member.
MAP CONTACT DETAILS: Telephone: 01449 673947, Email: redgables@suffolkonline.net, Website: www.midsuffolkaction.co.uk Address: Red Gables, Ipswich Road, Stowmarket, Ipswich, IP14 1BE.

F.O.S.S.
Early morning on Saturday 24th June, we were a little bit apprehensive as there was a short shower, but thankfully the sun soon came out and helped to make it a perfect day for our annual fete. On behalf of all the committee members of FOSS and the staff and children of Somersham Primary School, may we thank all of you that attended our fete and hope that you had an enjoyable day. Our sincere thanks go to all those people who worked so hard to make our fete a success, either by manning a stall, helping us to set up and clear up, or by kindly donating prizes etc for the raffles and tombolas. We would also like to extend our sincere thanks to the wonderful people (and dogs) from the Sudbury Pet Dog Training Team who so kindly gave up their Saturday afternoon to give us a fantastic demonstration on a very hot day. The dogs were very well behaved and obviously enjoy everything that they do with their owners! Despite competition from the World Cup football and many other events, we are delighted to inform you that we raised just under £1000. A fantastic sum for such a small school – thank you.
We hope that you were impressed by some of the outfits that were worn by the staff and committee members this year! We are already searching out outfits for our 1970's themed fete next year. So why not dig out your flares, Bay City Roller scarves, Donny Osmond hats or David Bowie makeup and join in with us next June!

At the end of the school year, we will have had our "Leavers Disco" at the village hall to say farewell and good luck to all the year six children who will be moving to Claydon High School in September. As the new term then begins in September, FOSS members will be finalising the arrangements for the scarecrow festival to be held in Somersham on 16th and 17th September 2006, 1p.m.-4p.m. We hope that as many of you as possible will join in with this fun weekend. There is no theme to the Festival so you are all able to use your extensive artistic talents in making your scarecrows. However, if you wish to join in, PLEASE can you contact Jenny King on (01473) 830623 by Tuesday 12th September at the latest, so that the location of your scarecrow(s) can be included in the programme. This year, the scarecrows will be judged and there will be prize for the winner.
If you do not live in Somersham, but would like to join in, we can make arrangements to display your scarecrows at the school where the programmes will be sold and refreshments will be available.
For safety reasons, we would ask participants to put their scarecrows in a safe place overnight and to ensure that their scarecrows are displayed from 12 p.m. until 5 p.m.
We look forward to seeing your wonderful creations!


***********************************************************
Ipswich Appeal For Romania will be departing for Romania on 1st August to present computers to a small children's orphanage in Transylvania.
The computers will be received with much gratitude and will give youngsters the chance of being taught basic IT skills before having to leave the institution at the age of 15.
If you would like to support the good work of the charity please contact Lee or Anna-Maria on 01473-833292.
Forthcoming Charity Events at Gt. Blakenham Village Hall.
Craft Fares Sunday 24th September and Sunday 2nd December
Pig Racing Night Saturday 16th December
Indoor car Boot Sales start Sunday 29th October and continue on the following Sunday mornings.
Nov 5th Nov 19th Jan 7th Feb 11th March 11th and April 1st
THE FRIENDS OF SOMERSHAM SCHOOL ARE HAVING A
SCARECROW
FESTIVAL
ON
SAT. & SUN. 16TH & 17TH SEPTEMBER
1 P.M. – 4 P.M.
PROGRAMMES AND REFRESHMENTS AVAILABLE AT THE SCHOOL
CONTACT JENNY KING ON 01473 830623 TO INCLUDE YOUR SCARECROW IN THE FESTIVAL.

SOMERSHAM CARPET BOWLS CLUB
With apologies to the bowlers, this is the report sent in for July and August magazines.
With the start of the Summer League it is just two matches to report on for the month of May.
As briefly noted in the June Link it's the usual all change for the Summer League as the clubs we bowl against are not the same clubs we come up against during the Winter League. It seems this year we have been allocated fixtures against Clubs from the higher divisions so it could make for many struggles and hopefully some very close matches
Firstly our opening encounter was a home match and a welcome to our first visitors to the Club – Old Felixstowe; and this match against experienced opposition proved to be a good competitive game. Our opponents came with a reputation as winners Division 2 East so it was very pleasing that a close match resulted with Somersham running out as worthy victors with two teams winning, one creditable draw with critical shots achieved on the last end, and the other team losing by the narrowest of margins. A good result for the opening match by any standards.
The fixture list shows that we are due to play the corresponding away match at Old Felixstowe during mid-July so it will be a summer visit to the seaside, and hopefully another good result.
Our second match took us away to Martlesham, so it was a relatively short trip round the A14 to their Village Hall. It was another close match and even though all teams showed good effort and bowled well for Somersham, Martlesham somehow managed to scrape home by a very narrow margin. Two teams winning their games and two losing. Right up to the very last shots, the win could have gone either way.
All mats bowl very differently, and a game can be won or lost in the first few ends. Get too far behind with the new triple format and catching up again can be very difficult. Therefore reading the mat in the early stages of the game is essential.
Summer League - May Results : -
| | | | | |
| --- | --- | --- | --- | --- |
| Old Felixstowe | 33 - 48 | 3 - 7 | Won | Home |
| Martlesham | 43 - 40 | 4 - 6 | Lost | Away |
With the Summer League now well in progress there have been several matches played, but with only a modicum of success. The first was a visit to near neighbours – Claydon; and which turned out to be a contest on two very different mats, one of which we mastered to record narrow wins and unfortunately on the other mat we were never able to get to grips with a consistent game. End result was that we achieved a draw in games but were well beaten on shots.
Our next match was at home to Martlesham and proved to be one of the closest matches of our season so far - evenly contested on both shots and points, with Somersham in the end achieving a creditable draw.
After League duties it was time to fit in a friendly at home against Nacton – always a sociable evening ; and as usual this was the case with the games being bowled in the friendliest of spirits. The Club had a good winning result, and are looking forward to the invite for a re-match at Nacton in the Autumn.
The next fixture on the calendar was away to Gt. Blakenham – the village with the possible spectre of SnOasis looming; and is probably a match best forgotten as we were outplayed by the more experienced opposition and lost by a considerable margin. We hang onto the hope that we can make it a closer match when the return is played at home on our mats
Final match of the month was at home against Sproughton, and was closely fought out end by end overall all four games – drawn on the mats – but with Sproughton just edging the result on total shots
Summer League - June Results : -
| | | | | |
| --- | --- | --- | --- | --- |
| Claydon | 73 - 25 | 6 - 4 | Lost | Away |
| Martlesham | 36 - 36 | 5 - 5 | Draw | Home |
| Gt. Blakenham | 79 - 21 | 10 - 0 | Lost | Away |
| Sproughton | 39 - 35 | 6 - 4 | Lost | Home |
Flowton Church News
Message for our church cleaners –a big thank you to everyone who turned up to give the church a special 'once over' on the weekend before the Flower Festival. It was a credit to the regular team that it wasn't such an enormous task – and apart from some high level cobweb removal the rest was putting an extra special sheen on any piece of wood we could find. And did it smell good afterwards – but admittedly not quite as good as when our friends on the flower rota had finished their work on the next weekend.
Thank you to everybody who contributed to the Christian Aid collection –a total of £139.67 was raised.
The grand total for the Festival weekend of June 16, 17,18 was £3,528.62, from which £353 has been sent to the East Anglian Air Ambulance fund. Thank you all for your efforts.

Please change these in your diary……
Harvest Praise on October 1st—service at 4.30pm, with tea to follow at 5.15pm
Harvest Supper will be on Friday, October 13th at 7.30pm at Flowton Hall. Tickets will be on sale in September.
PCC meeting on October 6th at 7.30pm in the Vestry.
Serendipity Sings at St. Mary's Flowton, Friday, 16 June
Serendipity is a group of 20, or so, singers from Hadleigh Choral Society, with several of its members coming from our own parishes.
Paying homage to the venue, they opened with Vivaldi's Gloria. The rest of the varied programme ranged from folk songs and Spirituals and included Standford's The Bluebird and The Long Day Closes, by Sullivan.
A medley from South Pacific, by Rogers and Hammerstein and an arrangement of Lullaby of Birdland rounded off the evening.
All the singing, under the direction of Nansi Browne and accompaniment (on the piano) by Patrick Friend, was delightful.
There was a further, unexpected, treat from three final year choral students from Magdalen College, Cambridge. Nansi's son, Owain, (baritone) and Rebecca Lowe and Lauren Williams (soprano) sang a selection of solos and duets.
What a lovely way to open the Flower Festival! The church looked a picture adorned in flowers, depicting the Four Seasons, and the capacity audience revelling in pleasing sounds of Light Music for a Summer Evening.
Judith Newman

Offton Church News
The collection for Christian Aid held in Offton raised £54.17 and a letter of thanks has been received from Christian Aid.Thank you to all who contributed to make the Fete/Flower Festival, in aid of Offton Church, such a success. Even the weather was good and the World Cup wasn't a match to what we had on offer. £l604 was raised for the fabric fund.Found over the weekend of the Fete:
l. A pair of specsaver glasses.
2. Penknife.
3. A camera case (off the roof of a car)
Tel. 658637 if you think they may be your property.
Appreciation:
This is not an account of all the wonderful book stories that were displayed at the Flower festival in our church, or the story of the Fete on that world cup afternoon. But it is an opportunity to say "thank you very much indeed" to Ian and Janet Dickson for all the thought, inspiration and hard work they put into what was a glorious weekend that resulted in a record total of over £1600.00 for st. Mary's Church. Thank you both. PaulForthcoming events.Saturday 28th October QUIZ (on a theme to be decided) in aid of Offton Church, to be held in The Village Hall at 7.30 p.m. Admission £3. Tickets from Ian 658637.
Looking to the future!
A busy weekend in September..
Friday September 8th at 7.30pm
Church Supper
Tickets £8
(Limited number)
Contact Mike Bolton on 01473 658304
Or Anne Chapman on 01449 721181
Saturday September 9th
SCHT Cycle Ride
Phone Alison Rumsey on 01473 658591
For sponsor forms
Or offers to spend an hour in church during the day.
Sunday September 10th at 5pm
Harvest Festival
Followed by a glass of wine and sausage roll!!
All offerings brought to the church will be taken to the Salvation Army in Stowmarket.
They particularly appreciate non-perishable goods such as tins, etc.
The Offton Song – Festival of Talents, May 2006 (Version 6)
I've always been an urban boy, I've journeyed up and down
Once I lived in Accrington, and also London Town
I've tasted many fruits of life, of apple, grape and quince
Then I came to live in Offton, and I've never looked back since.
We've got to have an Offton song, and Scott was quite explicit
That if I didn't do one then he certainly would miss it
Maybe the idea could catch on, now wouldn't it be comical
To supersede the Doomsday book with a local, vocal chronicle.
The village is now famous for the concerts that we hold
With glittering brass and candles, the concept is quite bold
The music is important, but more so the social scene
Next time we'll have two intervals, with music in between.
The concerts they raise money for many a worthy cause
The Hospice, the Alzheimers group, for thought we briefly pause.
Cheques were presented after church, ten thirty on the dot – but
The Alzheimers lady didn't show, maybe she – just forgot.
It's sad to see a selling sign outside someone's house,
It means for them they're moving on, so we shouldn't really grouse
So – for two cheerful village ladies, we only wish them well
Maybe they'll come back now and then, but only time will tell.
Every village has its sign, standing proud and tall
Depicting local history, p'r'aps, or the baronial hall
In Offton, we have just the post, standing stark and bare
Our identity's in crisis with the village sign not there.
The Council said it must return, and they have played their part
The site it has been girded with new kerb stones – really smart.
I see they go just part-way round – did they get in a muddle?
No – the rest are by the phone-box to stop that nasty puddle.
How are you doing with your bins – in this alternating way?
Have you ever put your garbage out on a recycling day?
Have you ever put the wrong stuff in – like garden waste or rubble?
If they stick on a red label, then you really are in trouble.
I'm happy now I live my life in a country way
And now I know how good it is, in Offton I will stay
With city life it seems to me, they're always in a fix
It's better for your peace of mind to live out in the sticks.
By Ted Sampson

Wildlife in field and garden…..
We begin with a report of flycatchers reared successfully in a garden in Flowton, together with several boxes of bluetits. Most of us see a good number of these birds in our locality these days, together with many yellowhammers which we understand are a comparative rarity in many parts of the country. The folks on the green in Flowton have been lucky enough too to be visited by the privet hawk moth and the hummingbird hawk moth (the latter seeming to be showing a preference for busy lizzie plants which many people have in their gardens – so hopefully this fascinating moth will become a common sight for more of us).
In Somersham there have been daytime sightings of badgers right in the village near the Marlborough. One theory is that badgers may be particularly hungry this year because the unusually dry weather will have caused a shortage of earthworms, their main source of food. There are suspicions also that badgers may be responsible for the ravaging of precious green pea crops in the village! In any event, it is extremely unusual for badgers to be seen wandering about not only in daytime but in close proximity to human activity. Another interesting report came from Somersham of a kite circling the village (and before anyone makes a wisecrack – no, it wasn't attached to a string!)
The year so far has been poor for numbers of butterflies, brilliant for the widespread of orchids (even seen on grass verges around our lanes) - and muntjac deer! Many gardeners regret the spread of these dainty little creatures and report the devastation of much of their hard work this spring and summer. Rabbits too are back in full force - yet another hazard for farmers and gardeners. But it isn't all bad news though, because there is very little evidence of greenfly this year – and that must be a bonus!
(Thanks to Terry Proctor of Flowton and Harry Parcell of Somersham)

WILLISHAM
CHURCH NOTES

Church Fete
At the time of writing these notes our fete is still a week away, so we will be unable to report on this event until the October issue of the Link.
August Services
As there are usually changes to our normal pattern of services in August, please refer to the list at the back of the Link.
Sponsored Cycle Ride
This year's event takes place on the 9th September and is the 25th year of the ride. If you would like to cycle on behalf of Willisham Church, please contact Frances Gilson for a sponsor form. Half the money raised goes to Suffolk Historic Churches and half to your nominated church.
Songs of Praise – Sunday 10th September
The Benefice Choir will be leading our 3.00pm service. Please let us have details of your favourite hymn as soon as possible, so it can be included in the service.
Harvest Festival/Gift Weekend – 7th/8th October
Full details will appear in the next issue of the Link, but please put this weekend in your diary now.
Family Bonfire and Fireworks - 3rd November
This event will take place at Crow Hall – full details in the next issue of the Link.
CHURCH SERVICES in our 8 linked parishes

If you think there may be a mistake in the rota please contact your Churchwarden.
Please note that the services are much reduced during August.
We hope that you all have refreshing and revitalising holidays.

6th August 8th Sunday after Trinity
| | | |
| --- | --- | --- |
| Holy Communion | 9.30am | Willisham |
| Holy Communion | 11.15am | Somersham |
| Evening Prayer | 3.00pm | Barking |
| | 6.30pm | Battisford Village Green |
13th August 9th Sunday after Trinity

| | | |
| --- | --- | --- |
| Holy Communion | 8.00am | Flowton |
| Holy Communion | 10.00am | Bricett |
| Holy Communion | 11.15am | Barking |
| Songs of Praise | 6.30pm | Offton |
20th August 10th Sunday after Trinity

| | | |
| --- | --- | --- |
| Holy Communion | 8.00am | Somersham |
| Holy Communion | 11.15am | Battisford |
| Evening Prayer | 6.00 pm | Flowton |
27th August 11th Sunday after Trinity

| | | |
| --- | --- | --- |
| Holy Communion | 9.30am | Ringshall |
| Holy Communion | 11.00am | Offton |
3rd September 12th Sunday after Trinity

| | | |
| --- | --- | --- |
| Holy Communion | 9.30am | Willisham |
| Morning Prayer | 10.00am | Bricett |
| Holy Communion | 11.15am | Somersham |
| Morning Prayer | 11.15am | Battisford |
| Evening Prayer | 3.00pm | Barking |
| Holy Communion | 6.30pm | Flowton |
10th September 13th Sunday after Trinity

| | | |
| --- | --- | --- |
| Holy Communion by extension | 8.00am | Flowton |
| Family Service | 10.00 am | Somersham |
| Holy Communion | 10.00am | Bricett |
| Holy Communion | 11.15am | Barking |
| Family Service | 11.15am | Battisford |
| Songs of Praise | 3.00pm | Willisham |
| Harvest Festival, and refreshments | 6.30pm | Offton |
17th September 14th Sunday after Trinity

| | | |
| --- | --- | --- |
| Holy Communion | 8.00am | Somersham |
| Family Service +Communion by ext. | 10.00am | Offton |
| Family Service (Derek Ames) | 10.00am | Bricett |
| Holy Communion | 11.15am | Battisford |
| Evening Prayer | 6.00 pm | Flowton |
| Evening Prayer | 6.00pm | Ringshall |
24th September 15th Sunday after Trinity

| | | |
| --- | --- | --- |
| Holy Communion | 9.30am | Ringshall |
| Morning Worship for all ages | 10.00am | Flowton |
| Holy Communion | 11.00am | Offton |
| Harvest Festival | 3.00pm | Barking |
| Harvest Festival with Elmsett Band | 4.00pm | Bricett |
| Evening Prayer | 6.30pm | Somersham |
1st October

| | | |
| --- | --- | --- |
| Harvest Praise, followed at 5.15pm with harvest tea. | 4.30pm | Flowton |
Somersham Baptist Church
Drama Workshops with The Red Balloon Theatre Company
From Thursday 21st to Saturday 23rd September we have a visit from a children's theatre company. They will hold Drama Workshops for Children on Thursday evening and on Saturday morning. A sketch show for teenagers will be performed on Friday evening.

Numbers at the events are limited to 50 to enable the full involvement of all, please register your interest with Mark: 01473 831940, mark.newcombe@btinternet.com

Red Balloon will also visit Somersham and Claydon (tbc) primary schools involving the children in drama workshops.
Mid Suffolk Accountancy Services Ltd (01473 831547) have assisted the Church financing this visit.
Y Course Brian Ward is leading a series of 8 sessions in the autumn exploring issues related to faith including; Y so many religions, Y suffering. Look out for further details coming soon.
Regular Sunday Morning Programme (You are welcome to join us for all or part of the morning).
10.00-10.30 Prayer Meeting
10.45-11.15 Bible Study (Communion 1st Sunday)
11.30-12.00 Worship
12.00-12.30 Sermon
Other Meetings
Children and Young People (During term time); Wednesday Club 6.30-7.30pm for primary school children, 14+ Friday's 8.00-9.30pm Year 9 upwards, restarts 8th September.
Meetings for Ladies;
Women's Fellowship 2.30pm 8th September, contact Mark if you need transport.
Friends and Neighbours 17th July 7.45pm Romania re visited; Linda Ward

All events are held at the Baptist Chapel, Chapel Lane, Somersham IP84 QE, and Transport is always available.
Contacts;
Pastor Mark Newcombe 01473 831940 Mobile 07930 543583. e-mail mark.newcombe@btinternet.com
Colin Low 01473 464833 or Edwin Mayhew on 01473 658100. Web site www.somersham.com