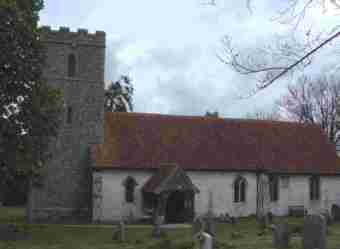 Somersham Church Notes
Somersham Church Notes
There may be changes to the normal pattern of services through August, so please check at the back of the magazine or contact the churchwarden.
A very big thank you to all who helped in any way at the Summer Fete and to everyone who supported the event. The amount raised will be in the next Link.
Folk Evening Friday 22nd October - we are so pleased that our local talented folk singers are putting on another concert in the church. The church is always packed at these concerts so do make sure you get your tickets in good time, from Christine's Haircare, Somersham Garage or Pat Woolhouse.
Summer Quiz sheets are on sale for £1, from Christine's Haircare, Somersham Garage or Pat Woolhouse. You have until the
beginning of September to complete it.
Christmas Tree Festival and Bazaar 27/28th November - please contact Christine Jarrold if you or your organisation would like to get involved in helping with this. The bazaar will be on the Saturday afternoon and the festival will be in the church over the whole weekend.

The Prayer Group mentioned by the Vicar last month is to be held at the Rectory at 7.30pm on September 15th, October 13th, November 17th, and December 15th. Further details available from Revd Bernie Rose
St Mary's Church Somersham
Folk Evening
featuring
JCB
Pluck & Squeeze Folk on the Hill
Silbury Hill
Ted and friends
on Friday 22nd October at 7.30pm
in Somersham Church
Tickets £6
(including light refreshments)
available from
Christine's Haircare, Somersham Garage or Pat Woolhouse (831080)
10% of profit will go to Woolverstone Wish
Somersham & District Community Association
Doesn't time fly? I cannot believe that it is time yet again to remind everybody that the next meeting of the S&DCA will have a double agenda – the AGM and the first General Meeting of the next term. The AGM will be held on the 25th March in the Pavilion at 7.30pm and all interested parties are welcome. Any member of any of the village associations and clubs who has been elected to speak on their behalf is very welcome indeed and is automatically given a vote on the proceedings. Likewise anyone with an interest in the community and the facilities provided on the playing field, or ideas on how they can be improved can come along also. As with all these things, none of it could happen without willing volunteers and these will be more than welcomed. The playing field facilities have been very well used since their installation and are a credit to the hard work and perseverance of those who raised the money and continue to support and maintain them.
Talking of volunteers the litter-picking rota is working satisfactorily. If only the litter louts would work as hard to prevent the job being necessary it would be wonderful. Talking of wonderful, there is an unsung hero/heroine who has been clearing up the car park where litter is often ankle deep. The clearance was noticed way back in November and grateful thanks were Minuted then. The sec. was asked to publicly acknowledge this in the Link and as usual got the Christmas period publishing dates muddled up. So a belated but heartfelt thank you to the public spirited person who has been clearing up all the mess.
Not much else is happening at the moment; quite a bit of maintenance is waiting on drier warmer weather, the drainage of the new pitch is working very well and the resident mole population has taken itself elsewhere for the time being. Our volunteers can make the most of the quiet before the spring comes and wakes us all up.
Nicky Heming
STOWMARKET CONTACT CLUB
Don't be lonely – join our club!
We meet every Monday and Wednesday.
Come to as many or as few meetings as you wish.
Our activities range from just a cup of coffee and a chat,
to shopping outings, visits to places of interest, theatre, etc.
Don't drive? Don't worry –
we have drivers who will pick you up –and even take you home!!
Interested?
Ring: Mary Woods on 01473 730283
Or Audrey Thomas on 01449 781310
SOMERSHAM VILLAGE HALL
All booking enquiries:
Mrs Hilary Bridger - 01473 831552
---
Somersham Football Club
With most of the club scribes preparing for long distance holidays in the sun, I've been asked to, "Put a bit in the Link", or at least I think that's what they said, anyway, apologies for any mistakes, any duplication or if this just isn't the finest piece of literature you have ever read, but here goes.
Under 11s
Shane Davis and James Plummer have assembled a large squad of boys over the last 12 months and have just finished their first league season at 7 a side.
The lads have competed well against some well established clubs, gaining valuable experience, displaying a passion and desire that will see them do very well next season as they step up to 11 a side.
Under 12s
The under 12s came close to promotion, a win on the last game of the season would have seen them through in runners up spot, however it just wasn't to be, the boys battled hard but lost 1 – 0 to a Cornard side with an exceptional keeper, in fact he was reported to be driving the team bus but nothings been confirmed.
Manager Steve Cotterell will add to the squad during the summer as we plan to go all out for promotion next year.
Reserves
Under the leadership of Quinny Warner and the departing Matt Whitton the reserves were only one or two results from promotion, this was quite some feat and an indicator of the strength in depth that Somersham now has.

1st Team
Congratulations to the 1st team who were promoted as runners up in Division 3.
This was a fantastic team achievement managed by Keith Lawrence and Derek Ottaway but special mention must go to Kieren Cotterell who not only finished as the club's leading goal scorer for both the reserves and the first team but for the division as well.
Keith like Matt will be stepping back from team management next season but SFC is grateful for all their contributions in making the 08/09 season so successful.
On behalf of all the teams special thanks to our Chairman, David Sillet and to all those who have supported us, either with work behind the scenes or as one of our many fans from the touchline.
Martin

SOMERSHAM VILLAGE HALL
All booking enquiries:
Mrs Hilary Bridger - 01473 831552

FRENCH CONNECTION
SOMERSHAM/CHALLAIN LA POTHERIE VILLAGE LINK
*************
Visit to Challain-la-Potherie 2010
(Apologies that this was omitted from the June Link -Ed)

A large bright and airy coach was waiting for us when 36 local people of all ages met at Somersham village hall for the start of our 10th anniversary visit to our link French village in the Loire Valley.
A warm welcome awaited us as our hosts and friends gathered for our arrival. Big smiles, hugs and 'bonjour' all round, and refreshing drinks in the village hall before back to our hosts homes for an evening meal and a chance to practice our smatterings of French and English on each other. Sign language, dictionaries and laughter also helped the communications along.
Our hosts had planned an action filled weekend for us. Saturday morning and afternoon were spent with host families exploring the region. Then followed a visit to the village sports centre where Vincent and others had organised hilarious team games instead of our regular tug-of-war. The evening was a celebration of our 10th anniversary year in the village hall when more than 100 people sat down to a traditional French meal of coq-au-vin. Short speeches followed and two of our young teenagers gave a speech in fluent French, very well done Melissa and William! Somersham presented Challain with a bench to mark this auspicious occasion, Kate and Steve sang English folksongs and got our entire contingent to sing a celebratory song which they had composed. A slide show of photos taken by Rene-Luc over the last ten years brought back many happy memories. Dancing to music played by a local Challain group went on well into the small hours of the next day.
On Sunday two coaches full of hosts and visitors took us to a beauty spot beside the River Loire, then on to lunch at a Crêperie. Later at the beautiful Château de Serrant we were given a guided tour by the English speaking guide, who we later learned was the owner of the château. Then back to the village to spend the evening with our hosts.
All too soon the visit was over and Monday morning had us back in our coach for the return journey. A brilliant weekend, thanks to all who organised it and to those who came along and made it all so enjoyable and worthwhile. We look forward to receiving visitors from our link village here next year. If you would like to join us on these exchanges please get in touch with:
Gill Fordham: : tel: 831529; David Haughton:tel: 831511;
Janet Hodge: tel: 832296 Pat Woolhouse: tel: 831080

***********************************************
The Lions Club of Stowmarket and District present
The 8th Annual Sponsored Rhythm of Life Walk
On Sunday 13th June 2010

The Rhythm of Life walk will be held on the "Aggregates Trail" which travels through the Gipping Valley from Needham Lakes to Barham Picnic area and returns along the same route. It is approximately 14 Km long and should take around three hours and a half hours not allowing for any sightseeing stops alongside the River Gipping. Refreshments will be provided near Baylam Lock. Shuttle transport will be available at the Barham Picnic site for anyone wishing to shorten the walk to 7Km. There is a picnic area at Needham Lakes should anyone want to use it at the end of the walk.
Registered sponsorship forms will be entered into a draw. The winner will receive a £150 voucher for Ince's Outdoor Shop, Ipswich Street, Stowmarket, kindly donated by the owner, John Kingsley. Anyone wishing to participate in this event please email jonathan.pearce@stowlions.org.uk or telephone 07875 647589 and leave your name and address so that an entry form can be posted to you. An entry form and more details can be found on www.stowlions.org.uk.

Proceeds from the walk will go to Papworth Hospital and Lions Charities so please take part in this walk and call on your sponsors to donate to these good causes.

Age Concern Suffolk - Here to help.
With help centres, shops and services throughout the county, Age Concern Suffolk offers a local service for older people and those that care for them. We provide information, benefits advice and a range of support services

We are a local, independent charity whose aim is to enable older people and their family carers to manage the challenges that may come with ageing while retaining choice in, and control over, their own lives. We are pleased to have received support from Somersham Parish Council and write to tell local people more about our local services - perhaps we can help you or someone you know?

Enquiries to Age Concern Suffolk often start at one of our three main help centres -your local centre is Ipswich, details as below .After making their initial enquiry, people go on to find out about the variety of services we can offer. These include Benefits Advice Workers, an Independent Advocacy Service and staff who can home visit to give information and talk over any problems or worries older people have about staying independent in the future.

In addition we run a number of day centres and services around the county and have a popular home help service which can help with housework, laundry, shopping and much more. We also have carefully selected volunteers who provide friendship to isolated older people all over Suffolk through our Telephone Befriending Service. In the Ipswich we also offer home visits from Befrienders.

This is just a snapshot of some of our services - to find out more please contact our local Help Centre or view our website www.ageconcernsuffolk.org.uk
Ipswich Help Centre, 41a Upper Brook Street, Ipswich IP4 1DU
Tel 01473 257039 E mail enqips@ageconcernsuffolk.org.uk
Open 9 am to 5 pm Monday to Friday
---
Gardener's Link
Somersham and District Gardening Club
Monday 9th August

Members visit to CHILLI FARM, MENDLESHAM
BY KIND PERMISSION OF DENISE NUTTALL
COST £4.50 per head Including tour and refreshments
For further information
Contact Pamela Mclennan
01473 658152
Monday 13th September

7.30 pm - CHINESE GARDENS EXPLAINED AND ILLUSTRATED by IAN SEAGER: GARDEN DESIGNER
In Somersham Village Hall, Members free
Visitors and guests welcome. Entrance £1-00
Raffle. Refreshments available
Chernobyl Children Life Line
The final total for the Trash, Treasure and Jumble Sale is £1348.07.
Once again Angela and Heather would like to say Thank you to everyone that helped in any way.
---
Somersham Golden Link
Golden Link Somersham

Day Trip to Lowestoft Tuesday August 24th
Coach Departs Somersham
At 10.00 am
Children Welcome With an Adult
Wheelchair Friendly Coach
All enquiries to
Colin Burrows, 6 Brook Way, Somersham
Tel: (01473) 830132
---
SOMERSHAM PARISH COUNCIL
Website: www.somersham.suffolk.gov.uk
AUGUST/SEPTEMBER 2010
Forthcoming Parish Council Meetings
Wednesday 1st September 2010
Wednesday 6th October 2010
Wednesday 3rd November 2010

All meetings commence at 7.30pm in the Village Hall and the press and public are welcome to attend.
Vehicle Activated Speed Sign outside Village Hall

Initial impressions received by the parish council are that this new speed sign is effective in reducing the speed of vehicles entering Somersham in a westbound direction. The parish council would welcome any feedback from parishioners on your views of the effectiveness of this sign, particularly from those who frequently exit Church Lane and turn right and for which complaints have been received on the hazards caused by speeding vehicles from this direction. The parish council has continued to seek speed management and traffic calming measures at the other end of the village.
Community Speedwatch Scheme

It is now looking more hopeful that Somersham will be able to set up a Community Speedwatch scheme in partnership with some neighbouring parishes. Discussions are taking place relating to financial implications and funding possibilities, but in the meantime we are still looking for a few volunteers who can help with the scheme. Three volunteers are located at agreed sites and a record is made of speeding vehicles. There is no contact with any drivers. The objective of the scheme is not to catch as many speeding drivers as possible but to reduce speed in areas of concern and address the concerns of local residents about cars speeding through their neighbourhoods. The 30mph speed limit is there for a purpose and these schemes are proving to be successful in other parishes by deterring motorists from speeding through villages. If you are interested in further details please contact the Clerk who can forward more information.
Vacancy for a Parish Councillor

Somersham Parish Council currently has a vacancy for a parish councillor and has permission to co-opt. Parish council elections take place in May 2011 when all parish councillors are up for re-election. If you would like to be involved in protecting and enhancing your local community using the powers of local democracy please apply in writing to the parish clerk. If you would like to know more about the role of a parish councillor please contact any of the current parish councillors.
MSDC Skin Piercing etc Byelaws 2010

MSDC has issued Byelaws which take effect from Monday 2nd August 2010. The Bylaws cover acupuncture, tattooing, semi-permanent skin colouring, cosmetic piercing and electrolysis. A copy of the Byelaw will be posted on the parish council notice board by the end of July.
And Finally
A reminder that the parish council does not meet in August.
Everyone at Somersham Parish Council wishes you a very happy summer holiday and hopes the weather stays good.
Janet Clarke Tel. No. 01473 830398
Clerk to the Council E-mail: janetinclaydon@aol.com

Somersham Community Shop
The latest news from the steering group is that progress is being made, albeit slowly, towards obtaining planning consent.

Good news! We will be receiving funding from the Rural Economy Scheme and the Economic Development Project . Also we would like to say a big thank you to a local resident who has very generously donated £100 towards the funding.

Progress is also being made by solicitors who are drawing up a lease on behalf of the Community Association for the area of land on the playing field where the shop will be built.

Please contact any of the steering group members who are listed below if you have any questions or comments regarding this
project.

Gavin and Janet Hodge - 832296
Terry Fordham - 831529 Geoff and Barbara Tottle - 830867
Richard Browne - 831321 Anne Macfadyen - 831288
Stephen Bullard - 831439 Graham Amis - 834094
PLAYERS WANTED

SOMERSHAM YOUTH FOOTBALL CLUB WOULD LIKE TO WELCOME 3 NEW PLAYERS FOR THE 2010/11 SEASON AT UNDER 14 LEVEL.

WE ARE A FRIENDLY, COMPETITIVE CLUB WHO OPERATE UNDER THE F.A RESPECT GUIDELINES
AND ENCOURAGE LADS TO ENJOY THEIR FOOTBALL AT ALL TIMES.

PLEASE CONTACT MARTIN HISKEY ON 01473 831012 or Mobile 07949088967 FOR MORE DETAILS
---
SOMERSHAM FIRST RESPONDERS
Would you be prepared to attend certain specified medical emergencies voluntarily in the Somersham, Offton, Willisham and Nettlestead areas to give life saving help until an Ambulance arrives at the scene?

IF SO, YOUR COMMUNITY NEEDS YOU
Somersham Parish Council has kindly agreed to fund the start up costs of a Volunteer First Responder Scheme in Somersham working on behalf of and being called out by the East Anglian Ambulance NHS Trust.

INTERESTED?

You will be 18 to 70 years of age, physically fit, be prepared to undergo a CRB check, resident in Somersham, Offton, Willisham or Nettlestead and have access to a motor vehicle to attend calls.
No experience is necessary as full training will be given but you must have lots of enthusiasm. Initial training will take place in Bramford over a weekend with an assessment taking place the following weekend. Other training will take place locally.

If enough people show interest in starting a scheme in Somersham and immediate area, then we will hold a meeting to explain the system more fully before we go any further.
If you meet the above criteria and feel you can manage the training requirements and want further information or to register interest then please contact:-
COLIN FRENCH, 01473 831516
---
SOMERSHAM CARPET BOWLS CLUB

Getting the new month underway saw an away match at Burstall although it was a depleted line up for Somersham which meant 4 bowlers having to double up and bowl two games each due to holiday absence and other commitments by some club members. All four teams refused to be overwhelmed by the latter situation and battled vainly to gain some form of result, but were unfortunately on the losing end of the results on each mat and Burstall ran out eventual winners on shots. The disappointment of the loss was more than made up by the enjoyment of bowling and the tasty refreshments which rounded off the night's play.
Still unable to get a win under our belts in the Summer league and every intention of ... "must do better" ... our next opponents were Copdock & Washbrook who we welcomed to our mats. Again it was the circumstance of bowlers missing due to holidays and consequently the hex of some bowlers having to bowl twice. Obviously with very good bowlers against us it looked - on the cards - as though we were going to be overwhelmed, but this was not to be the case! ... and we gave a good account of ourselves, including introducing our new bowler to his first match. In the end it proved to be a match of two halves. The fours in the first half were fairly well beaten by the more consistent bowling of the opposition and it looked as if another heavy defeat might follow after the interval. However this was not to be and the triples in the second half put up resolute resistance and fared much better ... both winning their games fairly convincingly to make the final result a fairly close call. However it was Somersham who unfortunately finished up with a shortfall of 6 shots at the end of the evening to lose the overall result.
The final report for the group of matches in June saw us make the short trip down the road to Sproughton to play in the recently refurbished Tythe Barn on a hot summer evening. Work to bring insulation of the building up to standard has now been undertaken so happily it will be warmer winter league play in the future.

For this match - yet again - we had insufficient numbers to make a full team and were again forced to field a below strength team ... which had a direct influence on the result. Some members were required to bowl twice and this can be fairly tiring especially on a warm night.
In the first half Sproughton showed consistent bowling form to take the score on both mats with high shot wins. After the mid-way break the second half followed pretty much the same pattern although one of the triples put up creditable resistance to be only one shot down going into the last end. Any chance of a win on this mat however evaporated when Sproughton made shots to consolidate the result.
Another disappointing night for Somersham and with our plea for new bowlers seemingly yet to be answered the situation is looking fairly gloomy with the approach of the Winter league in September.
Summer League – June Results: -
Burstall 46 - 27 10 - 0 Lost Away
Copdock & Washbrook 49 - 43 6 - 4 Lost Home
Sproughton 66 - 26 10 - 0 Lost Away
* * * * * * * * * * * * * * * * * * * * * *
Unsure as to whether Link readers see our request each month at the end of the magazine report asking for new members to join the Club, it was recently decided if numbers were to be raised to the minimum level required to constitute a valid team then the Club needed to take the matter to a more higher profile. Notices have been posted and also you may have seen the flyers or even been one of those approached at the School and Village Fetes during July in an attempt to seek new members.

It is a social activity which has existed in the village for many years and it would be a great pity to see the Club disband due to a lack of response so we ask anyone who may be interested - without any obligation thereafter - to make the spontaneous decision to come along and just try carpet bowls on a Tuesday club night. Members are friendly, you will be made welcome, and we are sure that you may find yourself enjoying the sport.
There is no better time than the present to think of joining the Club so again we are looking to you .... Yes we mean you reader! .....
Come along to the Village Hall on a Tuesday Club evening
(7-00pm – 9-30pm)
and try carpet bowls.
---
Somersham Village Hall
HIRE CHARGES from 01/09/2007
At the AGM it was agreed that it was necessary to increase the charges for hiring the hall due to the increase in electricity over recent months. The last increase for residents was in 2003. New rates will come into effect from 1st September 2007.
Type of Hire Residents Non-Resident
Whole Building (Weddings, parties etc.)
Full day £120.00 £180.00
Evening (Sat) £90.00 £140.00
Main Hall only
Evenings - Hourly Rate (Sun - Friday) £8.00 per hr. £10.00 per hr.
Morning/Aft. - Hourly Rate £6.50 per hr. £9.00 per hr.
Regular Users (Evenings) £20.00 per session
Regular Users (Morn/Aft.) £18.00 per session
Committee Room only
All day - Hourly Rate £ 4.50 per hr. £ 7.00 per hr.
Session Rate £ 8.00 per session £12.00 per session
Booking: 50% of the hire fee must be paid at the time of booking. The balance of the hire fee together with a refundable £100.00 damage deposit must be received 7 days before the hire date.
Cheques: Made payable to "Somersham Village Hall"
"Resident": Persons living in the Parish of Somersham
The " Session Rate" is only for groups who have regular meetings of up to 3 hours per session.
All booking enquiries:
Mrs Hilary Bridger - 01473 831552
---

Somersham Baby and Toddler Group
We are pleased to announce that Somersham Mother and Toddler Group has been awarded a grant of £1,111 by The Local Network Fund which is administered by Suffolk ACRE. This money will be going towards new toys and craft materials for the children. We expect these to be purchased over the next few months, so if you are a mum, dad or carer of a child between 0 and 4 come along and see our fantastic new additions.
We meet every Wednesday during term time at the Village Hall between 9.30 and 11.00am. A session costs £1.50 and includes a snack and drink for the child and carer.
We are a small and friendly group and would be very pleased to see you. Please contact Helen on 01473 833285 for more details.


---
Somersham Primary School
NEWS FROM SOMERSHAM PRIMARY SCHOOL

It seems strange to be writing this piece today in early July, knowing that when you read it in August the school will be closed for the summer break. I think all of the staff and pupils feel very ready for the holidays, it's been a busy year and after receiving our long-anticipated visit from Ofsted last week we're all about ready to slow down a little! The
inspectors, quite rightly praised us for the many great things that go on in the school, they thought our field was great and especially liked our raised beds full of vegetables!
They picked up straight away on the happy and relaxed atmosphere and commented on the good relationships between staff, pupils and families. These things are very important to us, children can't learn unless they're happy and healthy and providing for this is a big part of our School.
The hardworking FOSS committee contribute so much to our school, and we'd like to thanks them for putting on such a fabulous fete this year! We must also thank you for attending as we raising an amazing £1800 which will make a big difference to our school in this time of tightening budgets!
I must also thank everyone for saving various Sainsbury, Tesco, Morrisons, and cereal 'Box Tops' vouchers for us, we have managed to order all kinds of resources for the school from these, from wooden spoons, to gardening gloves, tennis balls to bamboo water-play pipes!
Having another year of good SATs results has put the icing on the cake of a successful year here.
We are all looking forward to welcoming our new pupils into the school in September and seeing the pupils already here continue to go from strength to strength in their new year groups. In September if you would like to visit us to share some skills, look around if you're thinking of applying for a place at the school (either for reception, or a move from elsewhere), or you'd just like to nose around, do call Mrs Maguire in the office on 1473 831252 or email admin@somersham.suffolk.sch.uk
Lynette Allison: Head Teacher
The Rural Coffee Caravan Information Project
Comes to Somersham
The Coffee Caravan
Will be found at

Brook Way

Wednesday 25th August
2.00 pm -- 4.00 pm

We provide a wealth of information about local and National agencies and organisations
We offer an opportunity to chat to neighbours and friendly volunteers over a cup of tea / coffee and homemade cakes
******** ALL WELCOME ********
Our visit is free but donations are welcome
Supported by Neighbourhood Watch Somersham
Somersham and District MU
.

---

Somersham Cycle Speedway Club
Somersham Cycle Speedway Club
The remaining events of 2009 saw Steve Copping fly the flag for Somersham in the British Championships where he failed to get past the pre-qualifying round as Wednesfield.He was back in the Midlands on September 19th along with team-mate Gary Brown where they rode in the 2nd semi-final of the British Individual Grand Prix at East Park,Wolverhampton(virtually alongside Wolverhampton Speedway).Steve was only called into the event on the Monday to replace East London rider Denis Hubble but was unable to capitalise on his call-up,however Gary qualified for the final as 2nd reserve.

That was to be Steve's last action of 2009 as he suffered a recurrence of his leg problem which hospitalised him in Australia in March.Gary however was involved in the East Anglian Senior Final at Great Blakenham on October 3rd where he finished 2nd after a 3-rider run-off.before rounding off his season by deservedly winning the 13th London Old Masters at East London on October 31st.Gary was unbeaten in all 5 of his races winning heat 17 against fellow unbeaten over 40's leaders Ian Lawrence and Norman Venson in the individual to claim grid 1 in the GP Final. The trio was joined by local favourite and twice event winner Dennis Hubble (2001 &2).

This was a cracking final race of the season with Norman Venson taking the lead in a second lap positional shuffle only to be overtaken by a focussed Brown on the penultimate lap.
Unfortunately with no new members forthcoming, Somersham Cycle Speedway Club has been forced to cease current activities. With the club down to only one regularly active member there was no chance of any club based racing, let alone a team.The track will still see competitive action in 2010 as the following events,all of which will be run by the Suffolk Cycle Speedway Association,will be staged:
Jun 8 19:30 Suffolk U18/Sen/Vets GP
Jun 16 19:30 Suffolk U19 Championship
Aug 18 19:00 Suffolk U9/U11 GP
Aug 25 19:30 Suffolk U13/U15 GP
It is anticipated that the Deborah Mittell Charity Shield will be staged in 2010 but at the time of writing no date had been announced.
If you fancy a go at Cycle Speedway please get in touch and we'll give you the info you need. And if you think you can bring life back into the club and get a team together then great, we won't stand in your way. In the mean time the track is, as ever, available to the community for training purposes.
Steve Copping (sjccopping@aol.com)
Club Secretary:Peter Mittell 01473 831474

www.btinternet.com/~SomershamCSC

SOMERSHAM TENNIS
First let me thank everyone who supports the tennis courts in the village, by buying the wild bird food which is on sale at Somersham Garage or 16 Princes Gardens.
This helps enormously with the expense of the courts. Yes, we have to pay for our own insurance, grass cutting association fees and maintenance. We receive no funding from the Parish Council nor from the Community Association for the upkeep of the courts.
Our main fundraiser will again be the ploughman's lunch in September. (Watch out for the date – to be confirmed later).
These courts are for the community. They are open by 9 o'clock in the morning and, apart from the club sessions, anyone can playa t any time.
Penny Pearson 831436
Tennis Clubs
Due to unforeseen circumstances, the start date for all the clubs was delayed. We are now back on track. Coaches are used for both the Monday Boys Club and the Thursday Junior Club.
These sessions have been free of charge up till now but with the additional expenses we have recently had and the cost of coaches, after half term we will have to charge £2.00 per session.
Mondays 4.30-6.30 for the over ten year old boys, coaching with James.
Tuesdays and Thursdays 7 o'clock onwards for adults. Any adult can just turn up, with or without a racquet, with or without a partner. These are mix and match sessions. Cost £2.00
Thursdays 5 o'clock till 6 o'clock, Junior sessions with coaching by Jo Hughs.
As these courts are for the community, at all other times anyone can play, subject to the courts being available.
Penny Pearson 831436