This letter is from our new Priest-in Charge, the Rev Canon Bernard Rose. The Link warmly welcomes him and his wife Janet to their new work here in our villages and amongst us.
Have you seen him or spoken to him yet? They say he keeps a pet duck! Well yes, it is true. I have a lovely white duck. Puddleduck was one of a pair until earlier this year when her mate lost the use of one leg. The vet wondered if he'd had a stroke but as a consequence of this I had to have the poor old boy put to sleep. I also have a cat called Eddie and as many already know, I have a lovely wife Janet who many of you will have met already. Janet grew up and has lived in Ipswich all her life so living in the countryside is a totally new experience for her. The other thing to note is that Janet constantly tries to turn me out in a reasonably tidy We have three grown up children – Lisa, Sinter and Rebekah and three (soon to be four!) grandchildren.
Before taking this position as your vicar I have spent my life in horticulture. For the past 18 years I've been an OLM in the Church of England and I worked this side-by-side with my gardening. Now one of the good things about working in horticulture is that you learn to see and appreciate the small details of God's creation. It's not just about plants, trees and shrubs, but much more. The fragrance of blossom, the spider spinning its web, the little mouse scurrying through the undergrowth, ants building their city and caring for their next generation, bees collecting nectar, robins discussing with you the value of turning over a piece of soil to reveal lots of grubs. Never loose sight of God's creation. Janet and I have moved to a wonderful area of Suffolk, and with you all, are surrounded by the beauty and majesty of God's hand at work. Look in your garden or across a field or maybe at a tree and be reminded of that hymn.
'Be still, for the presence of the Lord, the holy one is here'. Yes, in our lives His presence is with us, in our joys or our sorrows, in great moments and times that fulfil us or those times of wilderness, God is here.
'Be still for the glory of the Lord is shining all around' How can we not see God's glory shining in our world and lives. From the beauty that our eyes behold, to the glory of our salvation through Jesus Christ His glory surrounds us.
'Be still, for the power of the Lord is moving in this place' The Holy Spirit pours His grace into each of us and energises our lives with His love.
Be still, Saviour God's creation, it's there for us, it's His gift!
Bernard Rose

From the registers:
Welcome to:
Thomas James Batchelor-Wylam, son of Lucy and James from Black Barn Close, Somersham,
who was baptised in Somersham Church on April 26th.

May he grow in faith

Church Altar Flowers and Cleaning Rotas

| | | |
| --- | --- | --- |
| | Somersham | Flowton |
| 7th, 14th June | Frances Southgate | Mrs Fawkus |
| 21st , 28th | Christine Cooper | Mrs Grimwood |
| 5th, 12th July | Faith Jaggard | Mrs Ward |
| Cleaning | Team C | Mr & Mrs G Watkins |
| | | |
| | Offton | Willisham |
| | | (flowers & cleaning) |
| 7th, 14th June | Julie Spurling | Mrs T Southall |
| 21st , 28th | Mary Brewer | Ms J Hardman |
| 5th, 12th July | Janet Crickmore | |
| Cleaning | Mr & Mrs Langford | |
Somersham Church Notes
On Sunday 7th June there will be a benefice service at Willisham Church at 10 am, when our newly licensed priest-in-charge Rev. Canon Bernard Rose will be conducting the service. On Sunday 14th June we will be joining the Baptist Church for their annual open-air service at 11.30am on the playing field. This will replace our normal 10am family service in the church.
The PCC and all at Somersham Church would like to thank most sincerely everyone who has helped with the extension to the churchyard and its boundary hedging. We would like particularly to say a big thank you to Few Transport, Dan Palmer of Palmer Fencing, Miss Emsden, Stuart Diaper and John Caston and family. We are extremely grateful for all the work they have done and landscaping given, all without charge.
Christian Aid Week took place in May. Thank you to everyone who put something in the envelopes and especially to the volunteers who went to every household in the village to collect them. The total amount collected will be in next month's Link. If you missed your collector it's not too late to give a donation – please drop it in to Christine's Haircare or Griffin Cottage.
At the APCM in April John Gibbons was re-elected as churchwarden and Michael Warren deputy churchwarden. The PCC is very grateful to everyone who helps in the upkeep and running of the church.
Somersham Church Summer Fete will take place on Saturday June 27th on Church Meadow, from 2 till 4pm. All the usual attractions, with plenty of games and stalls, will be there, and this year we will be serving delicious cream teas. We would be very grateful for donations of prizes for the raffle and the tombola,, cakes, plants and produce.
Summer quiz sheets - These should by now be on sale for £1 from Christine's Haircare, Somersham Garage or Pat Woolhouse.
The PCC thanks everyone who has collected envelopes for the Restoration Fund over many years, and those who have given each month. This has been a valuable addition to funds and we hope that all who have been contributing in this way will continue to do so by dropping in their envelopes to Christine's Haircare, Griffin Cottage or any PCC member.
Exam success
Piano teacher Mrs Lynne Holton of Somersham has pleasure in announcing the results of her pupils in the Associated Board of the Royal Schools of Music examinations:

In the theory exams: Freya Churm and Anna Haughton both passed Grade 2 with distinction, and Megan Cherry and Yasmin Picton both passed Grade 3 with distinction.

In the practical exams: Freya Churm passed Grade 2 with distinction, Emily Lewis passed Grade 2 with merit, and both Holly Fifield and Danielle Chester passed the Grade 5 exam.

Well done to all pupils and well done to the pupils who took part in the charity concert in March, raising £56 in voluntary donations for the St. Elizabeth Hospice.

"What do you want to see improved in your local area?"
Suffolk County Council, Mid Suffolk District Council, Suffolk Police, NHS Suffolk and the Community Board for your area are working together on a new project called 'Your Place... Matters'.
To make sure we are improving the area in the way you want, we need to hear from you. We will be in the local area in April and May asking for your views and ideas. To find out the dates and locations, or to give your views online, please visit:
http://www.onesuffolk.co.uk/YourPlaceMatters
The information you provide us, will ensure that we make the most of the money and people that are available.
If you would like more information, or to find out details about the Your Place Project, please contact:
Sara Blake Email: sara.blake@suffolkcc.gov.uk
Suffolk County Council Telephone: 01473 260761
The AGM of the Village Hall Committee
will take place
on Wednesday 24th June at 7.30pm.
All welcome!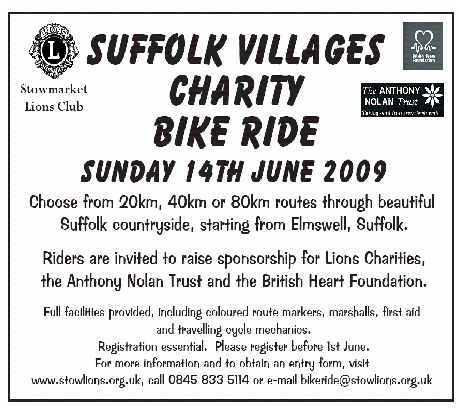 In aid of
St Mary's Church Somersham
Summer Fete
on Saturday 27th June
from 2 to 4pm
on Church Meadow,
Somersham
Free admission
Games Tombola
Cakes Raffle
White Elephant Plants & Produce
Ice-creams Refreshments
and Cream Teas!
Attractions for all ages!
10% of profit to Air Ambulance.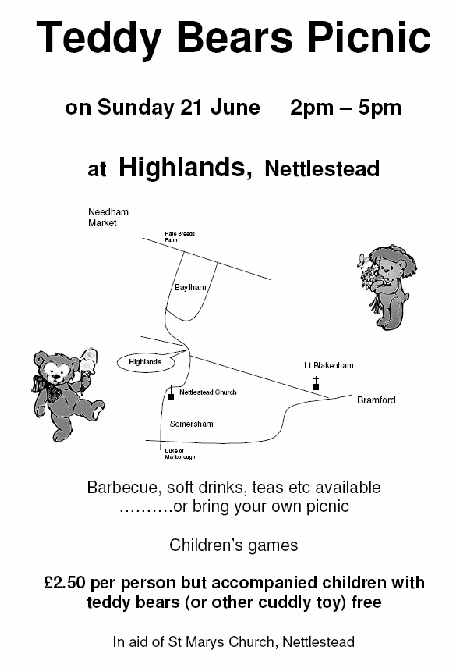 The Rural Coffee Caravan Information
Project
Comes to Somersham
The Coffee Caravan
Will be found at

Brook Way
Wednesday 24th June
2.00 pm -- 4.00 pm
We provide a wealth of information about local and
National agencies and organisations
We offer an opportunity to chat to neighbours and friendly volunteers over a cup of tea / coffee and homemade cakes
******** ALL WELCOME ********
Our visit is free but donations are welcome
Supported by Neighbourhood Watch Somersham

From: PC David Clark
our
Community Beat Officer
Tel: 01473 613500
Safer Neighbourhoods

Mid Suffolk South Team
Mid Suffolk District Council Offices, 131 High Street
Needham Market Suffolk IP6 8DL
http://www.onesuffolk.co.uk/safersuffolk
Hello again ,
Crimes of Interest
Somersham
15th April – Burglary – tennis racquets and tennis balls stolen
27TH April – damaged caused to window of dwelling
Offton -No crime to report
Willisham - 9th April – Burglary of garage of business premises – ride on lawn mower stolen
HAVE YOUR PROPERTY PHOTOGRAPHED FOR FREE
Mid Suffolk District Council offers the following services to residents of Mid Suffolk: Through the Crime Prevention Panel there is the facility for you to have your valuables photographed within your own premises completely free of any charges. Your valuables, either monetary or sentimental would be photographed in situ and these photographs are then transferred onto a CD disc which is given to you, the owner. The photographs on the memory card in the camera are then "deleted" ensuring that the only record is the one that is left with you on the CD.
This a valuable asset as should the owner be unfortunate enough to be burgled the CD can be loaned to the relevant insurance company, as proof of and description of ownership. It could also help to return the stolen goods if they should eventually be recovered by the Police. The Police do recover a certain amount of stolen goods but unfortunately they are not always able to trace their rightful owner, but they would often have information as to the broad area from which it had been stolen and they can then ask to see any CD's from that area. It will not prevent burglaries from happening but in those instances where it has taken place it could provide some very useful back-up material. It is, in effect, a valuable form of insurance and, it is free!
CRIME FALLS AS SUFFOLK GETS SAFER
Crime in Suffolk has fallen, according to the latest annual performance figures released today, Thursday 23rd April, by Suffolk Constabulary.
The figures, from 2008/09, also show that the number of crimes solved has increased compared to the same period the year before (1st April 2007 - 31st March 2008).
They show:
· Overall crime fell by 3.8% (to 46,504), with 1826 fewer crimes recorded than in the same period in 2007/08;
· Violent crime levels remained the same;
· Vehicle crime fell by 7%;
· Criminal damage decreased by 7% (arson fell by 26%);
· Burglary (dwelling) fell by 6%;
· The detection rate improved by 4% to 34.3%. In total 15,949 crimes were solved - an extra 1285 compared to 2007/08.The number of drugs offences recorded has increased by 12%, which is a reflection of the Constabulary's pro-active approach to drug enforcement.
The figures also show that robbery incidents are up by 3%. Although the statistics show an increase, it equates to an extra 9 robbery incidents countywide compared to the year before (2007/08 - 262 crimes; 2008/09 - 271 crimes).
Suffolk Police's call handling has also been exceptionally good, 95.6% of 999 calls were answered within 10 seconds, 5.6% above the target set of 90%.
If you have any information or would like any advice on police matters PCSO 3183 Vince Whitrow or myself would be more than happy to discuss this with you Our contact telephone number is 01284 774100
Our e mail addresses are Vincent.Whitrow@suffolk.pnn.police.uk or david.clark@suffolk.pnn.police.uk
Please remember that there are occasions when we on rest days for 4 days so if your call is of an urgent nature please ask to speak to any officer on duty.
Thanks very much
PC 466 Dave Clark
Thank you
PC David Clark
01473 383390 Stowmarket Police Station
01473 613500 Police Headquarters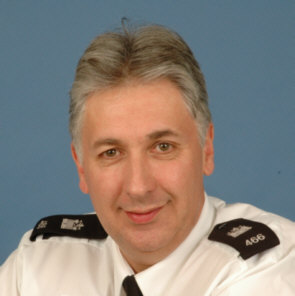 PC 466 David Clark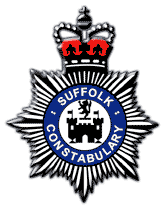 To go to the Suffolk Police web site please click here
To go to the Neighbourhood Watch site of Suffolk Police click here
STOWMARKET CONTACT CLUB
Don't be lonely – join our club!
We meet every Monday and Wednesday.
Come to as many or as few meetings as you wish.
Our activities range from just a cup of coffee and a chat, to shopping outings, visits to places of interest, theatre, etc.
Don't drive? Don't worry – we have drivers who will pick you up – and even take you home!!Interested?

Ring either: Audrey Thomas on 01449 781310 or Mary Woods on 01473 730283
Somersham Parish Council
Forthcoming Parish Council Meetings
Wednesday 3rd June 2009
Wednesday 1st July 2009
Wednesday 2nd September 2009
(No meeting in August)
All meetings commence at 7.30pm in the Village Hall and the press and public are welcome to attend.
Annual Parish Council Meeting
At the Annual Meeting of the Parish Council the following officers were elected for the year 2009/10:-
Chairman - Chris Mills Tel: 831667
Vice Chairman - Richard Browne Tel: 831321
SALC representative - Penny Pearson Tel: 831436
Parish Liaison Rep. - Chris Mills
Comm. Assoc. Reporter - Terry Fordham Tel: 831529
Village Hall Rep - Richard Browne
Footpaths Rep - Penny Pearson
The remaining councillors are:-
- Janet Hodge Tel: 832296
- Vic Pryke Tel: 831436
- Barbara Tottle Tel: 830867
Barbara Tottle was co-opted to the parish council at the meeting. Barbara has expertise in litter enforcement and dog fouling issues. Councillors welcomed her to the council and are sure she will make a valuable contribution to the village.
Thanks were recorded to the hard work undertaken by Richard Browne in his role as Chairman of the parish council for the past 2 years.
Please contact any of the above councillors if you have any information or concerns.
Somersham Town Land Charity
The parish council approved the appointment of Gavin Hodge, Chris Mills and Graham Amiss as Trustees of the Somersham Town Land Charity for the period 2009 – 2012.
Chapel Lane junction/Pump House Bend on Main Road
The parish council was very appreciative of the residents who had taken the time to give their opinions of traffic concerns on Main Road and the presence of the vehicle activated speed signs. Unfortunately these signs were only in situ for a trial period, but all those who responded considered they were effective. The parish council is now in communication with the county council to see if a more permanent solution can be found at these hazardous locations.
Donation to Parochial Church Council
Councillors approved a donation of £500 again this year to the Parochial Church Council as a contribution towards the cost of churchyard maintenance.
Audit of Parish Council Accounts 2008/9
The accounts of the parish council are currently available for inspection until the 12th June. A notice outlining the arrangements for inspection is on display on the notice board. Please contact the Clerk if you have any queries.
Wattisham Open Day
This year marks the 70th Anniversary of Wattisham Airfield as an operational military flying station and in celebration of this anniversary events are being planned for Saturday 11th and Sunday 12th July 2009. Some of the events will be private, aimed only at veterans/Civic leaders/service personnel and their families. However, on the afternoon of Saturday 11th July the station is planning an event for neighbouring communities which will comprise static and flying displays, airfield tours, historical presentations and a variety of stalls and supporting attractions. Somersham is one of the parishes which will be issued with tickets for this event which will not be open to the general public. There will be no admission charge. More details on timing etc. for the event is currently awaited, but it is envisaged that each ticket will permit a car or a family of 4 to enter the base. Names of attendees will be required.
Unfortunately this is all the information available at the time of writing, but as more details become available they will be posted on the notice board.
If anyone has any historical information on the airfield please contact the Clerk who can put you in touch with the Wattisham Museum.
Dog Fouling
Unfortunately despite previous appeals in this publication the parish council is still receiving complaints regarding dog fouling on the public footpaths and rights of way around the village. It is an offence not clean up after your dog on public footpaths and you could be liable to a hefty fine. It is sad fact that a minority are spoiling our village for the majority, a situation which must not continue. In future the footpaths will be monitored and any dog owners who do not clean up after their dogs will be reported to the relevant authority to ensure that Somersham is a clean and healthy place to live.
Janet Clarke Tel. No. 01473 830398
Clerk to the Council E-mail: janetinclaydon@aol.com
OFFTON CHURCH NEWS – JUNE 2009
Recent Events
An enjoyable Mothering Sunday service was held on 22 March at which posies of flowers were given to all members of the congregation. This service was arranged with children and mothers in mind, but sadly few children were present.
A Childrens' Easter Workshop was held in the church on Good Friday to which 10 children came. Peta Whiting, Anne Chapman, Carole Langford and Mary Carter had carefully prepared the event for the children to make an Easter Garden that was on display in the church throughout Easter. Many thanks were given to them by grateful mothers.
A Spring Quiz was held in the village hall on Saturday 18 April. Ian and Jan Dickson had come up with some very innovative, interesting questions that managed to 'stump' some of the most successful quiz goers. It was lively and noisy and much enjoyed by all those who attended. The event raised a very valuable £203 for church funds.
Our Annual Parochial Church Meeting (APCM) was held on Monday 20 April in the church. Sadly, only a few members of the congregation attended; nevertheless, a full agenda was dealt with. Ian Dickson was again voted in as the sole churchwarden for a further year. The updated Electoral Roll was presented that listed 20 people of which 11 were resident in Offton parish. All present member of the Parochial Church Council (PCC) were re-elected for a further year in their current posts; additionally, Jeffrey and Jean Waters from Marshmoor Estate were welcomed as new members of the Council. Annual reports on the past year were presented by the Secretary, Treasurer, Churchwarden and Bell Captain. There being no elected representative to the Deanery Synod, a report on that body's working year had been prepared with grateful assistance from Mr M Carter at Flowton. The APCM was followed by a routine PCC meeting.
Future Events and Special Services
Vicar's Licensing 2 June – Rev Cannon 'Bernie' Rose will be Licensed in Barking Church. He will be welcomed into our local church communities as our new resident priest-in-charge.
Summer Fete 13 June – Also reported elsewhere in the Link and at various places in the village. This event will be held in the church grounds starting at 2.00pm. All the fun attractions and stalls that you expect from a well organised village fete will be there, so make a point of attending. Musical entertainment will be provided by a large brass band. Offton church relies on the fete as a core event to bring people together and to raise funds to keep our ancient church in such fine condition.
The Animal Blessing Service that had previously been scheduled for 21 June has unfortunately had to be postponed to later in the year. Details of when it is to be held will be given in good time.
Open Gardens 12 July – This event is also advertised elsewhere in the magazine and the local area, so don't miss what will be an excellent and interesting day for anyone interested in gardening or gardens. Refreshments will be available at various locations, and the toilet in the church will also be open. A Songs of Praise service will follow the delights of nature and hard work by owners of the gardens that you will have been privileged to enjoy.
Harvest Festival 13 September – Here is one to put in your diaries for after the summer holidays. This service, when we thank God for his bounty of food that we so enjoy, will be held at 5.30 pm. Food donations will be passed to the Salvation Army in Stowmarket for distribution to the poor and in-need.
Church Fact File
At Offton Church, we have a particularly splendid West window. Our churchwarden, Ian Dickson, has done some research on this window, and his story may be of interest to readers.
'The west window in the tower of Offton Church was commissioned in 1862 by Frederick Thompson, brother of the then Vicar. Probably made in Birmingham, it is hand painted onto glass; however it is now deteriorating and loosing its sharpness. The scene depicted is the presentation of the child Jesus in the Temple, an event we still celebrate as Candlemas.

The story began 3,250 years ago when the Israelites cried out to God to release them from the burden of slavery under Pharaoh in Ancient Egypt. It was Moses and Aaron who confronted Pharaoh and the last of the ten signs showing God's power was the Angel of Death passing over Egypt one dreadful night and killing every first born son, including Pharaoh's (see Exodus chapter 7). Only the first born sons of the Israelites were spared because they had made themselves ready for the Passover. To continually remind the Israelites of this event and their rescue from slavery, the first born son of each family had to be presented as a gift to God in the Temple at Jerusalem. He could be redeemed or bought back by the purchase of a lamb or two doves, which were presented at the Temple in his place.

Jesus was the first born son of Mary, and the west window shows Mary and Joseph with the child Jesus and Simeon who was very old and lived at the Temple. Simeon had been promised in a dream that he would see the Messiah before he died. Also depicted is Anna, an elderly prophetess. Simeon and Anna recognised that Jesus was the one chosen by God, and Simeon's words are recorded in The Gospel of Luke 2 verse 22 onwards. The picture also shows two white doves and a wooden chest with the numbers 1-10(x) possibly to represent God's law given in the Ten Commandments. All the characters have halos around their heads, which is a pictorial sign of spiritual power.'

Now who can translate the Latin words at the bottom of the window? Not all the letters may be correct because some on the window are missing - AD MAJOREM DEI GLORIAM. Answers please to any member of the PCC (see back cover).
---
Alan Munson, Piano tutor at Flowton would like to congratulate the following pupils on their achievements in the Associated Board of the Royal Schools of Music Spring Exams:
Practical
Alice Downie: Grade 3 with Distinction
Natasha Downie: Grade 2 with Pass
Lily Griffith: Grade 1 with Merit
Hollie Gregg: Grade 1 with Pass
Theory
Eleanor Seddon: Grade 5 with Distinction
Boya Robinson: Grade 6 with Merit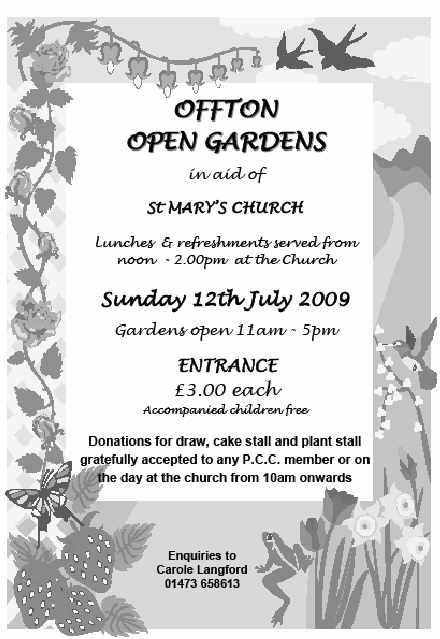 Somersham & District Gardening Club
Monday 8th June @ 7.15 pm
Visit to "Rosemary" A garden in East Bergholt
By kind permission of Mrs Finch
Cost £5.50 per person to include tour/talk and tea and biscuits
For details and to book a place please contact Pamela McLennan on 01473 658152 by 2nd June
Please note change of venue

Barking Pre-School (Registered Charity 1020882)
We have been enjoying the good weather and have spent plenty of time outside. During May we had a outing to Hollow Trees Farm, where the children learned lots about farm animals and how the food we eat is grown and many more fun activities, thank you to all the staff at the farm for a making it a very enjoyable day out.

We have places available from September, if you would like a place for your child please contact either the Pre-school on 07754892077 or Sally Aveling on 01449 744510. Children can start pre-school from the age of 2 ½ and it is open every weekday morning from 9.30 until 12 noon during term time. We have a committed, well-trained staff who organise a wide variety of fun and educational activities. We have many toys and activities -something to capture each child's imagination.

OFFTON & WILLISHAM PICTURE QUIZ 2009
Firstly, I would like to thank everyone who bought a quiz sheet and thank you very much for participating.. I hope you all enjoyed it as much as I enjoyed compiling it. Every £1 spent will go to help with the upkeep of our village hall.
Thank you all, again. Jessica.

THE ANSWERS:
NAME THESE PEOPLE. What is the connection? CONNECTION
1. Emily Blunt; Annette Crosbie; Judi Dench; Anna Neagle; Irene Dunn: - All portrayed Queen Victoria
2. Earl Rosebery; Herbert Asquith; Clement Attlee; Ben. Disraeli; D Lloyd George: - British Prime Ministers
3. Arthur Ashe; Billie Jean King; Steffi Graf; Mary Pierce; Jimmy Connors: - Grand Slam tennis champions
4. Margaret Rutherford; Gracie Fields; Geraldine McEwan; Joan Hickson; Helen Hayes: - All portrayed Miss Marple
5. Albert Finney; Peter Ustinov; Ian Holm; David Suchet; Tony Randall: - All portrayed Hercules Poirot
NAME ACTORS AND THE FILM WHICH CONNECTS THEM
6. Richard Widmark; Richard Boone; Laurence Harvey; Frankie Avalon; John Wayne: 'The Alamo'
7. Rita Tushingham; Dora Bryan; Murray Melvin; Robert Stephens; Linda Lewis: 'A Taste of Honey'
8. Judi Dench; Bob Hoskins; Will Young; Christopher Guest; Thelma Barlow: - 'Mrs Henderson Presents'
9. Cher; Judi Dench; Maggie Smith; Lily Tomlin; Joan Plowright: - 'Tea With Mussolini'
10. Agnes Moorehead; Karl Malden; Hayley Mills; Jane Wymark; Adolphe Menjou: 'Pollyanna'
NAME EACH PERSON AND MAKE THE CONNECTION:
11. Corin; Michael and Rachel (Kempson); Jemma; Natasha (Richardson); Lynn: The Redgrave Family
12. J.Haydn; W.A.Mozart; J.Brahms; R. Vaughan Williams; John Tavener: Classical composers
13. Percy Thrower; Geoff Hamilton; Carol Klein; Joe Swift; Sarah Raven: TV Presenters ('Gardeners' World')
14. Reginald Bosanquet; Anna Ford; Robert Dougall; Angela Rippon; Kenneth Kendall: TV news presenters
15. Victoria de Los Angeles; Alan Opie; Maria Callas; Placido Domingo, Jose Carreras & Luciano Pavarotti: Opera singers
16. Claude Monet; Carl Larsson; Gustave Courbet; Vincent Van Gogh; Gwen John: The artist self portraits
NO CONNECTIONS, JUST NAME THESE YOUNGSTERS:
17. Shirley Temple 18. Ross Kemp 19. David Hemmings
20. Rick(y) Nelson 21. Jessica Tandy 22. Pater Hain
23. Julia Roberts 24. Mother Teresa 25. Janet Jackson
26. Boris Becker 27. Leo di Caprio 28. Marianne Faithfull
29. Jack Wild 30. Helen Shapiro 31. Hayley Mills
32. Theo Walcott 33. John Howard Davies 34. Lena Zavaroni
35. Lester Piggot 36. Aled Jones
and the winner is….. There were two winners, and in the event of a tie, incorrect spellings were taken into account. Therefore, the winners with 332 points and 2 incorrect spellings were John and Yvonne Barber, Willisham. The runners-up with 332 points but had 6 incorrect spellings were Pat and Steve Woolhouse, Somersham. Well done!!!

Offton & Willisham Village Hall Management Committee
It was slightly disappointing that the open exhibition of plans for the new hall was not better attended, but on reflection the majority of regular users had already seen the plans, and the 28 residential properties most affected by the proposals had already received an information pack and small copy of the plans. We appreciate the Bowls Club's support at this meeting and the AGM.
Since the last AGM we have lost Committee Member Peter Harvey who has resigned as he is spending less time in the area, and gained two new members Trevor Seddon and Linda Papworth. Percy Thorpe has been made an Honorary Member in recognition of his many years on the committee. Thank you to them all for their support.
As reported in last month's Link we are finally making progress in replacing the hall and members are busy with aspects of funding and building.
Janet Crickmore

Friends of Somersham School
Recent Events:
FOSS are delighted to report that our Archive Film Evening was a great success, raising a significant sum for the school. A very big THANK YOU to everyone who came along to support us and to the FOSS members who helped to make the evening run smoothly, whether setting up, clearing away, making sandwiches, selling raffle tickets, refreshments etc. We especially thank John and Leita Minns who sold the majority of the tickets for the event and of course to Geoff Clarke for giving the show. We hope you all enjoyed the yummy homemade cakes made by Jenny King and Nicky Davis, in what must have been a cake-a-thon on that Friday morning!
Up and coming:
Our Pantomime Themed Summer fete is on Saturday 20th June and will be opened by a special CELEBRITY GUEST who will certainly be dressing for the occasion! We are really enjoying coming up with ideas for themed stalls and games and plans are well underway. We already have the Suffolk Academy of Dance and Performing Arts confirmed as entertainment for the event. We will have a Bouncy Castle, BBQ, ice-cream stall, 'Aladdin's Cave', raffle, tombola, and lots of fun games etc.
Please come along, bringing lots of your family and friends to join in the fun! Don't hesitate to contact me if you can help out, either by running a stall, sponsoring a stall, or by donating a prize for our raffle. We can't wait to see you there; wear panto fancy dress!
We have now confirmed our date for the Christmas Shopping Evening. This will be on Friday 13th November in the Village Hall. We are taking bookings already, so please contact me if you are interested.
News:
We are delighted to welcome some new members to FOSS. We hope you enjoy being part of our committee.
FOSS is now on facebook!! Check out our page 'Friends of
Somersham School' and join as a friend where you can keep updated with our activities.
Currently fundraising for:
We would like to purchase some new outdoor furniture for the school. This will benefit all of the children for use at playtime and lunchtime breaks, and even parents who wait for their children at after-school sports clubs. There aren't very many of the current picnic benches and they are now past their best. The money raised from the archive film evening has given us a good head-start.
You can help us by coming along to our events (put the 20th June in your diaries and tell all your friends), collecting supermarket tokens, used ink cartridges, and old mobile phones.
Dates for your diaries:
School Summer Fete –Pantomime Theme (oh no it isn't…oh yes it is!!) 20th June
Christmas Shopping Evening- Friday 13th November 7pm
Contact:
Clare Davies 832569 or clare.davies@tradstan.suffolkcc.gov.uk
Volunteer Centre Mid Suffolk, 5 Poplar Hill,
Stowmarket IP14 2AS Telephone number 01449 612486
Email: volunteer.centre@optua.org.uk
Why Volunteer?
The Benefits to you...
It can be really enjoyable
You make new friends
Increase your confidence
You can try something completely different
You can learn new skills—and develop new interests
You are doing things that won't get done without your help
You can make such a difference in your community.
It will help give you structure to your week
It can be fun!
SOMERSHAM CYCLE SPEEDWAY
The season is now underway and with Somersham not competing in any league racing this season senior riders Gary Brown and Steve Copping have both signed for Kesgrave on secondary licence, which means that they can ride in any competition for Kesgrave except for the following events:
British Individual Championship which is being staged in the Midlands this year (both riders are expected to enter), British Open Club Championship (which Somersham are possibly entering as it is being staged by the Norwich club).
Both Gary and Steve have featured in track action which started on March 21st with Gary featuring in the opening round of Kesgrave's Club 4's where 3 of the teams were named after former teams which used to compete. The final positions were Melton Meteors, Kesgrave Panthers, Foxhall Pirates, Woodbridge Wildcats.
The following day saw Kesgrave travel to Great Blakenham for 2 matches. The first match was a Norfolk & Suffolk League match which Kesgrave lost 54-98, Gary scoring 15. The South-East Division 2 match was next and Kesgrave avenged the earlier defeat by winning 71-58, Gary scoring 14+3.

1 week later it was the opening round of the 2009 South-East Grand Prix series at Ipswich where Gary was completely unbeaten in the Veterans category, winning all his qualifying races as well as the final.
Next up for Gary was a trip to Hethersett with the Kesgrave team for a Norfolk & Suff olk league match, followed by a South-East Division 2 match and both matches saw defeat for Kesgrave. The Norfolk & Suffolk league match saw Kesgrave go down 65-114 with Gary scoring 17 points then adding a further 15+1 in the SE2 match which Hethersett won 84-75

April 18th saw round 2 of Kesgrave's Club 4TT which saw a scoreline of Melton Meteors 64, Foxhall Pirates 48, Kesgrave Panthers 45,Woodbridge Wildcats 42. For the Kesgrave team Gary scored 14 points and for the Foxhall team Steve scored 4 points, making his comeback after 7 weeks out with a leg infection.

2 weeks later at Kesgrave it was round 2 of their Club Championship and Gary and Steve both rode in the senior section. Steve scored 6 points but Gary's score wasn't known by this scribe at the time of writing. I will update this at a later stage.

There will be track action at Somersham in 2009 with the following events:
June 3 19:00 Suffolk U9/U11 GP*
June 20 Deborah Mittell Memorial Meeting-a pairs event where Steve and Gary will represent Somersham
Aug 5 19:30 Suffolk U13/U15/U17 GP*
Aug 26 19:00 TA Security Suffolk U10 Championship*
* These meetings are run by the Suffolk Cycle Speedway Association
If anybody fancy a go at Cycle Speedway please get in touch and we'll give you the info you need. As stated at the beginning of the article the Somersham team does not currently compete in league racing, but the track is available to the community for training purposes.
Debbie Mittell Charity Shield
Cycle Speedway meeting
Venue: Cycle Speedway track on Playing field Somersham
Barbecue and refreshments available
Saturday 20th June 3.00pm Start
Proceeds in aid of St Elizabeth Hospice

SOMERSHAM TENNIS
First let me thank everyone who supports the tennis courts in the village, by buying the wild bird food which is on sale at Somersham Garage or 16 Princes Gardens.
This helps enormously with the expense of the courts. Yes, we have to pay for our own insurance, grass cutting association fees and maintenance. We receive no funding from the Parish Council nor from the Community Association for the upkeep of the courts.
Our main fundraiser will again be the ploughman's lunch in September. (Watch out for the date – to be confirmed later).
These courts are for the community. They are open by 9 o'clock in the morning and, apart from the club sessions, anyone can playa t any time.
Penny Pearson 831436
Tennis Clubs
Due to unforeseen circumstances, the start date for all the clubs was delayed. We are now back on track. Coaches are used for both the Monday Boys Club and the Thursday Junior Club.
These sessions have been free of charge up till now but with the additional expenses we have recently had and the cost of coaches, after half term we will have to charge £2.00 per session.
Mondays 4.30-6.30 for the over ten year old boys, coaching with James.
Tuesdays and Thursdays 7 o'clock onwards for adults. Any adult can just turn up, with or without a racquet, with or without a partner. These are mix and match sessions. Cost £2.00
Thursdays 5 o'clock till 6 o'clock, Junior sessions with coaching by Jo Hughs.
As these courts are for the community, at all other times anyone can play, subject to the courts being available.
Penny Pearson 831436
SOMERSHAM CARPET BOWLS CLUB
April is the dividing month between the ending of the Winter league and the starting of the Summer session; and with no matches to be played members wind down to just club nights and in house competitions. Within this time span a date in April is also set aside - annually – with Offton & Willisham to bowl for the Paul Chapman Cup ... a long standing and enjoyable competition between our two villages.
This year the first Saturday of the month was booked for this local derby between both clubs, and as reported in the April Link Offton & Willisham have already come up with the match account from their perspective - and a very fair appraisal it was!
Having won the cup last year Somersham had great hopes of retaining the silverware again but this was not to be! After the first few games it was evident that Offton & Willisham sights were set as they bowled more consistently and at the out-set appeared determined to relieve us of the trophy.
Starting with some promise and holding steady after the first 'fours', Somersham were unable to make any headway thereafter and were edged out on many results. As the afternoon progressed Somersham were powerless to reverse a declining situation and gradually fell even further behind by the tea interval.

At the conclusion of the match Offton & Willisham ran out worthy and deserving winners by 23 games to 13, including a good surplus of shots. Intended as friendly rivalry between neighbouring villages the whole afternoon - as usual - was enjoyed by all; and everything was rounded off with a tasty fish and chip meal.

Our congratulations to the winners but we shall be back with a vengeance next year!
Next on the calendar it was club members competing in the first in house competition – the Fred Johnson Cup. With all members giving of their best in singles play some very close games ensued' and after all knock out were completed it was left to John Prentice and Bill King to contest the final. Played over 7 ends it was John who took the result. So it's well done to John and another trophy for his cabinet.
The second of our in-club competitions bowled on a regular club night towards the end of the month was the John and Rosemary Shield. With fewer members able to attend it was again a reduced turn-out this year. However this situation was satisfactorily solved with the deployment of byes; and the pairings - randomly drawn - produced a few bowling upsets. A competitive evening was concluded by a very close final and it was Alan Thompson and Bill King who soaked up the pressure to see off all-comers - beating Joyce Jones and Rosemary Southgate - to win the Shield. 'Well done to both'.
We still look to increase membership of our 'carpets' group, and were pleased to recently welcome Peter Rawlings into the club. So ... just like him ... why not take the plunge and come along to the Village Hall one Tuesday evening and try your hand at carpet bowls. It's easy to pick up and you will find everyone very friendly.
May sees the start of the Summer league so regular match reports can be expected through the summer months to give account of our results progress through to September.
Golden Link
Somersham
Day Trip to Southwold & Dunwich
Tuesday June 2nd
Coach departs Somersham at 10.00 am
Children welcome with an adult
Non Members £8 Children £2
All enquires to
Colin Burrows
6 Brook Way, Somersham
Tel: 01473 830132

FLOWTON NEWS

It would be much appreciated if dog walkers around the Flowton lanes could either pick up their dog's messes or bring a trowel and hoik them into the ditch.
The messes are reaching epic proportions!
Thank you.
Everybody is invited to
FLOWTON FETE
Sunday June 28th
2.00pm-4.00pm
on the churchyard
Stalls, games, cream teas and friendship!
Your contributions for stalls and help with the fete would also be appreciated –
contact Diana Fawcus or Margaret Laflin with any offers or items.

Christian Aid
As mentioned in a precious Link, this year we asked for sponsors for a walk in Ipswich. On the day, walkers were Margaret Laflin and her granddaughter Isla, Graham and Diana Fawcus, and Mary Carter. Despite the weather forecast, they had lovely weather for walking, enjoying a coffee on the Waterfront, and (Graham) hearing a nightingale when by the river near the station; they also learned more about Ipswich as they walked round to find the answers to the quiz. (Did you know someone involved in the formation of the Co-operative Movement was born in Ipswich?) And Isla met the mayor of Ipswich – here they are with the walk organizer, Moira Kleissner.
Our band of walkers have raised £362 in sponsorship, which, as it was specifically raised towards water projects in Ethiopia, will be increased by the EU to a total of £1448. Congratulations and thanks to the walkers and their sponsors.
Last month's Coffee Drop In was lovely with 2 old friends 'dropping in'. That's the lovely thing – you never know who will be there! Come and see next month on Wednesday, 3rd June, any time between 10 am and 11.30ish.
Quiz night - although there were not as many competitors as we had hoped at our quiz on Friday, 27th March, it was nevertheless a most enjoyable and happy evening and resulted in £200 for our church funds. We are most grateful to John and Leita Minns, their daughter Jenny and grandson Thomas who ran the evening for us. If you were not there you missed a treat!
***** *****
The Reverend Canon Bernard Rose, our new priest, will take his first service in Flowton Church on June 14th, the Holy Communion at 8.00am
***** *****
OFFTON CHURCH FETE
JUNE 13th @ 2pm
in the
CHURCHYARD
FUN and GAMES
STALLS
TEAS, HOT DOGS, ICES
TOMBOLA & RAFFLE
Display of old photographs
The Ipswich Hospital Intermediate Band
Proceeds to St Mary's Church Offton Fabric Fund

WILLISHAM CHURCH NOTES

Church Services
We are looking forward to welcoming the Rev. Canon Bernard Rose at the eight parishes Holy Communion Service on Sunday 7th June at 10.00 am.
We will be holding our annual Songs of Praise service on Sunday 14th June at 3.00 pm in Willisham Church. We hope the Benefice Choir will be able to join us.
Church Fete
There will be a fete planning meeting on Saturday 13th June at 10.00 am at 'Freshwood', Fiske Pightle. If you are unable to come to the meeting but would like to help at the fete, please ring Maureen Fisher on 01473 658451 or speak to any member of the PCC.
The fete itself will be on Saturday 11th July at Crow Hall, from 2.00 pm onwards.
WILLISHAM FETE
SATURDAY 11th JULY
from 2.00 pm
at
CROW HALL
Stalls Games
Barbecue
Refreshments Raffle
Elmsett Silver Band
Competitions Rides
Bar
Exhibition of local photographs
ADMISSION FREE - ALL WELCOME
Enjoy a good afternoon and meet your friends


Somersham Baptist Church
11.30am Sunday 8th June Open air service on the playing field:
Both churches again meet on the playing field for this service. Our guest band Peershaped return for another year and Ray and Joy are stocking up on burgers and sausages for the BBQ that follows. Over the years we have been blessed by some good weather so do wander down and join us.
Many thanks to all who attended the Born in a Barn evening in April, £120 was raised for the Cogwheel Trust Charity who assist deprived children in India and Uganda.
Regular Sunday Morning Programme (You are welcome to join us for all or part of the morning).
10.00-10.30 Prayer Meeting
10.45-11.15 Bible Study (Communion 1st Sunday)
11.30-12.00 Worship
12.00-12.30 Sermon
Other Meetings
Children and Young People (During term time); Wednesday Club 6.30-7.30pm for primary school children, 14+ Friday's 8.00-9.30pm Year 9 upwards.
Meetings for Ladies;
Women's Fellowship: No Meeting in June
Friends and Neighbours 7.45pm 16th June.
Contact Mark if you need transport.
Meetings are held at the Baptist Chapel, Chapel Lane, Somersham IP84 QE.
Pastor Mark Newcombe, 01473 831940, 07930543583, m.newcombe940@btinternet.com

Forthcoming events at a glance
(extracts only, please check the Link articles for more details.) If you wish your event to be included here please contact Silke (silcom.pr@talk21.com)