The 'Link' by post
Once again the time has come round to remind you that postage is due now if you wish to have the magazine mailed to you in 2008 (or sent to a friend or relative). We are happy to say the cost will remain at £3.50. If you receive the Link by post already you will find a form and addressed envelope in this issue and once again we would appreciate your early response to enable us to begin printing envelopes.

Throughout the year we have been pleased to carry news of old friends in the magazine and they in their turn greatly appreciate hearing what we are doing in our villages. We are happy to add new names to our list and if you know of someone who would like to keep in touch with us through the Link please contact Margaret on 658330 or email –margaret@prodigynet.co.uk
---
Warmest Christmas greetings from the Link committee to all our readers and every blessing in the coming year.
Dear Friends - this is the story of Justin. It was nearly Christmas and many young people had received an invitation from the king for an Activities Day followed by a banquet in the castle. A coach would collect them from the village green.

Justin's mum altered one of his father's old suits and, as a present for the King, she wrapped two jars of her homemade strawberry jam in gift paper. He left in good time with clean fingernails and shiny shoes.

On the way he met his Nanna at her gate. She wanted him to take some letters to the post box and became noticeably deaf when he said that he had a bus to catch: old bones and arthritis was her response! He ran there but it took too long and when he got to the village green they had all gone. He could not go back so he set off on his bike for the great adventure.

It turned out to be a lot further than he expected and at midday he stopped at his uncle's house. It was not a happy household. Uncle Jack had a job interview the next day but he felt that he could not attend because his clothes were so ragged. Justine lent him his suit and the shiny shoes. He did not know what he would wear at the banquet but his uncle's need was greater.

Not far from the castle he came across a man trying to smash his way into a car in which a mother and her daughter were cowering down. Justin did not know where he got the courage from but he shouted that he had brought the man a present. The man was so surprised that he stopped and glared at Justin who nervously gave him the King's presents. The man tore off the wrapping and tried the jam. It tasted good. His anger was abated and he left. The police soon came and Justin slipped quietly away

When he got to the castle everyone was inside preparing for the banquet. Justin walked slowly around the castle walls, he was late, had no suit and no present. He came across a small door and a group of people dressed in white. They were kitchen staff and one asked him if he wanted a job. Justin became the errand boy. The chef was very angry because everything was now ready but the principle guest had not turned up. Justin was told to go into the banqueting hall and hide behind a pillar and let the chef know as soon as the guest turned up. He peered around the pillar. Everyone was sitting down. There was a raised table at the far end for the King, the Queen and the nobility. There was one empty chair. Justin felt that he was being watched. It was the King who turned and spoke to the Queen. She smiled and rose up and walked down the whole length of the hall towards Justin and said that they had been waiting for him. Everyone was quiet. Justin walked with her as if in a dream. At the raised table he could not look up.

"I have no right to be here" he said, "I have no suit, no present and I am working as your lowest grade kitchen boy". The King put his hands on Justin's shoulders.

"Look at me Justin. The invitation was for you as a person, not your clothes or your status. I judge you by the feelings of your heart and your actions and they are as pure and radiant as any suit. You have given me wonderful presents. You gave your time freely, you lent your suit and you used your gift to help others. What more can I ask of anyone. Sit beside me and let the banquet begin"

As everyone enjoyed the Christmas meal Justin thought about all that had happened. How amazing it was that an ordinary person like himself, who thought he had been a complete failure, should be received as the Principle Guest!

Fellow travellers, Jesus did not come as a king but as a shepherd. He calls you now to celebrate his birth and to accept his invitation to join him at his banquet. Ian Dickson
A Message from Mary Carter
People have been asking what is happening on the new Vicar front – well, nothing at present. The Archdeacon hopes he can come up with a new idea to attract someone soon. On the more cheerful front – not all clergy think that 8 parishes is too much – two priests recently said if they were younger they would find the job attractive. Sooooo….we just have to pray that God is calling someone younger with lots of energy who will answer the call and also find the post attractive.

Church Altar flowers and cleaning rotas
Somersham
7th December Mrs C. Cooper
14th 21st Mrs. L. Warren & all help for Christmas
January 4th 11th Mrs. C. Jarrold
18th 25th Mrs. P. Woolhouse
February 1st Mrs. J. Newman
Cleaning - January Team A
Flowton
December 25th,28th Jan 4th Mrs. M.Laflin & all help for Christmas
January 11th, 18th Mrs. M. Carter
January 25th, Feb 1st Mrs. D. Fawcus
Cleaning - Mrs Fawcus, Mrs. Laflin & Mrs. S. Hitchcock
Offton
January 4th, llth Mrs. S. Bolton
January l8th, 25th Mrs. H. Derriman
February lst, 8th Mrs. P. Whiting
Cleaning - January Mrs Susan Bolton
Willisham (flowers and cleaning)
December 7th, 14th Mrs. D. Hill & all help for Christmas service
December 21st, 28th Mrs. R. Cage
January 4th, 11th Mrs. V. Large
January 18th, 25th Mrs. E. Hudson
Thanks are due to all those who have provided and beautifully arranged flowers through another year and also to everyone who has cleaned and lovingly cared for our churches. It is hoped that you are all willing and able to continue in 2009 but if you wish to be removed from the rota would you kindly contact the person responsible in your village.
Somersham Church Notes
Christmas Quiz Sheets are now on sale for £1 from Christine's Haircare, Somersham Garage or Pat Woolhouse. The closing date isn't until the end of January, so if you think you can sell half a dozen please let Pat know.

Christmas services:
The Toy Service will be on December 14th at 10am, when gifts (unwrapped please) may be brought for distribution to the Women's Refuge. Children's toys and books, and toiletries for their Mums, are very much appreciated.

Somersham's Carol Service is on December 21st at 3pm.

We hope that many of you will be able to come along for these special services – you will be made very welcome.
Looking ahead to next year, we're planning a Trivia Quiz on Friday 13th March 2009. More details in the next Link, but perhaps you would like to start getting a team of up to 6 together.



S&DGC 2009 PROGRAMME
DATE EVENT

January 12 GREENHOUSE GARDENING

February 9 PRUNING, TRAINING & GRAFTING TOP FRUIT. (There will be plants for sale)

March 9 AGM followed by GARDENERS QUESTIONS TIME

April 13 FUCHSIA: from its origins to present day. (Fuschia for sale)
(EASTER MONDAY)

May 11 'FAIRPLAY' SEEDS: ways of saving & sowing seed.

MAY 16 ANNUAL PLANT FAIR: 10-12 noon

June 8 VISIT : OLD ROSE GARDEN, Claydon

July 13 Garden Visit in Westleton

August 10 GREEN THUMB LAWN MAINTENANCE

September 14 FOOD FOR FREE! FOOD (FROM THE WILDS OF SUFFOLK) Involves tasting &drinking!

October 12 AUTUMN VEGETABLE & FRUIT PROPAGATION

November 9 PLANT HUNTERS…past and present

December 14 CHRISTMAS SOCIAL .
We have a speaker each month & several visits/events organised each year.
Discuss gardening problems/successes over refreshments.
£7.00 pa membership.
Guests/visitors: £1.00 per meeting.
Raffles and sales table
Meetings every 2nd Mon ay of the month.
For more information: 01473 657023
Come and join us. You will be most welcome!
SOMERSHAM CARPET BOWLS CLUB
Getting another new month underway … and it was a home game for Somersham. As previously reported in the November newsletter, the last match of last month was an away leg - which we lost - against Claydon in the Joe Rice Cup, and it was now our turn to complete and host the 'home leg.. Whilst it was a close match on our mats, the games were very evenly contested and we obtained the win on the night - by 3 shots; it was Claydon who took the aggregate result over the two legs … and we wish them well for the next round.

Joe Rice Cup
Claydon 45 - 26 3 -1 Lost Away leg
Somersham 36 – 39 1 -3 Win Home leg

Our early exit from the Joe Rice Cup now gives us less-pressured opportunity to concentrate our efforts to do well in the league; and the first match of the month saw us travelling away to Brantham. Difficult access to the upper floor saw us having to bowl with a reduced team. However everyone put in a good performance: and very close games ensued - with Brantham, disappointingly for Somersham – just taking shots in 3 out of the 4 games to win the match by the very narrow margin of 5 shots.

Our first 'in house' competition of the Winter session brought club members together as randomly drawn pairs to bowl against each other for the Russell Thompson Cup. With the need for only one bye, bowling soon commenced and resulted in some close tussles by everyone in an effort to make it into the next round. At the end of the evening - and played over 7 ends - it was left to the pairs of Bell Deaves/ Joan Smith and Rosemary Southgate/ Roy Spratt to fight it out in the final. It was a worthy final, and after the allocated ends had been played the result was still not decided as both pairs were on the same score. With a 'sudden death' extra end introduced for the deciding roll, it was Bell and Joan who emerged triumphant … and well done to both.

If carpet bowls matches can get exiting then the away fixture at East Bergholt did it for us!. With never more than 3 or 4 shots difference all through the evening it was a very nip and tuck match all the way. Being again one down on regular bowlers we brought in one of the new members to the Club to fill the vacancy. Never having bowled before and with only four club nights practice, it was case of in at the deep end for league play. However the daunting prospect of playing on an away mat was soon overcome and our new player (Jacky) bowled extremely well. In the end it was a very fair result with both teams splitting the result for a well earned draw.
Winter League – October Results: -
Team Shots Points
Brantham 49 - 44 8 - 2 Lost Away
East Bergholt 37 - 37 5 - 5 Draw Away

Whilst three enthusiastic 'newbies' have recently joined the Club, the loss of a couple of former bowlers means we would still like to increase the number of members in the Club with the choice to bowl in the Winter league …. so why not come along to the Village Hall one Tuesday night and try carpet bowls to see if you can help consolidate the membership. You will find it is a very social evening.
All about us…..
News…of Helen Decker, representing Team England in the Toronto Marathon on Sept 28th. Although the wind and humidity cost her 11/2minutes in the last 12k or so, Helen stormed the final 100m, finishing in 2:45:15, a new personal best by nearly 21/2 minutes on her London time. She was 2nd Team England lady, 12th lady overall, 1st prize winner in her age group and 41st in the entire field. Helen has achieved this level of performance while at the same time holding down a full time job with the National Trust. Like so many British athletes there is little support available and Helen will be looking for sponsorship to achieve her full potential and have 2012 in her sights. If anyone is interested in assisting Helen with trainers or kit please contact her parents, Steve and Elaine Martin (Offton) on 658708.
At the end of another year the thanks of all the readers of the Link are due to our delivery team who regularly and faithfully bring the magazine to our doors. Your voluntary work is much appreciated by us all – thank you and we wish you a very Happy Christmas! Also to Joan Clarke of Willisham who does a sterling job in putting the Link on the internet for us.
Flowton Church News
On October 18th a group of 14 children and also some of their parents met for a workshop with Peta Whiting in the Church. They made nativity figures from papier maché pulp moulded on to bottles. Their creativity and skill was astonishing. Peta took the models away to dry and we had a second workshop on November 8th to paint them. Here is a picture of Peta with some of the children and their unpainted models.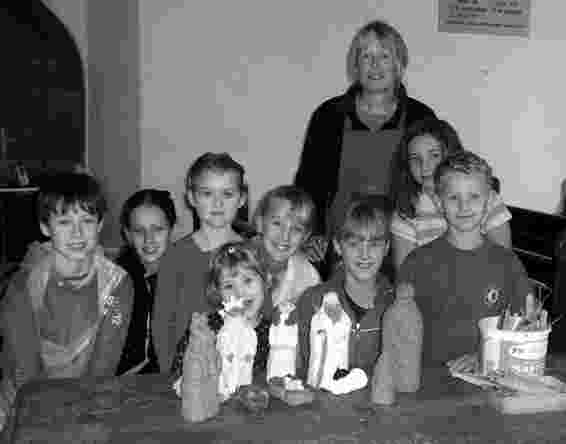 Thank you, Peta, for a lovely workshop.
Thank you to everybody who contributed fresh produce, packets and tins, for the Harvest Thanksgiving –they were taken to the Ipswich Women's' Aid and they have sent a letter of thanks for it all.

Thank you to everybody who recently contributed to the collection for the RNIB. A total of £62.47 was raised.- Nick Carter

At the recent PCC meeting it was agreed that next year the Fete would be held on Sunday July 5th.
We hope we might be able to hold a Trivia Quiz in the spring.
Looking further ahead, it is hoped that we can hold a Gardens Open and Flower Festival weekend on 19th & 20th, 2010.. We will arrange a meeting soon so that outline ideas can be aired. Please start thinking about a theme for the Flower Festival and chat about the event
The last Village Coffee Drop In of 2008 will be on Wed 3rd Dec when mince pies and Christmas greetings will be the order of the day. Come and join us any time between 10-11.30 am.
Willisham Church Notes
Building Project
The final phase of the building project is now under way. We hope soon to be able to give a full report of of the work undertaken together with details of the funding which enabled us to make the improvements.

Christmas Services
Our Advent Carol Service will take place on Sunday 14th December at 3.00 pm when we will be joined by the Benefice Choir. There will not be a service at Willisham Church on Christmas Day. Details of services at other churches are given at the back of this newsletter
Bonfire and fireworks night (stop press!)
The weather was kind and we all had a great time. Thank you to everyone who worked hard to make our Bonfire Evening on 7th November such a success. A special thank you to Rod Holder, as always, for allowing us to use Crow Hall, and to everyone who attended, for their generosity. We raised £550.00 for church funds.
MAGICAL MUSICAL MOMENTS
New Year's Concert by Candlelight
Saturday 10th January 2009
7.30pm
OCTAVE VOCAL ENSEMBLE
who with their varied programme give us a jolly start to 2009.
MMM is always sold out, even if it coincides with major events elsewhere.
Therefore, order your cushioned seat asap from
Nigel Coleman on 01473-657191 or nrjcoleman@hotmail
£10 including champagne & sumptuous refreshments
Full details www.onesuffolk.co.uk/magicalmusicalmoments

Offton Church News
Recent Events and Special Services

On Saturday 1 November, the first of our annual Magical Musical Concerts for the new winter season took place. This concert featured the New Burlington String Quartet playing a programme of music by Mozart and Beethoven. The packed audience really appreciated the fine playing and music, and the candle lit church provided an ideal setting. Refreshments and fine wine were enjoyed in the interval, and all for just £10 per ticket. What a bargain! All proceeds from this concert went to the Suffolk NSPCC.

Our annual Remembrance Day 'Poppy' Service was held on Sunday 9 November. Capt Garry Badley from 7 Battalion, Wattisham, volunteered to come and to speak at the service from his many experiences on the front line today in Afghanistan. His words put the church service in to perspective, for on this day, we remembered all servicemen and women who have given their lives in service to the nation, including the 16,500 who have died since 1945. Capt Badley also played a fine 'Last Post' on his bugle, bringing a tingle to the skin, and a tear to the eye. We hope to repeat this programme next year, so if you missed it this year, watch out for next November. Remembrance Day is an important event in the life of the nation, and it is hoped that many members of the parish found time to attend these special services.
Future Events and Special Services

The next concert in the current MMM series takes place on 29 November, and will feature well known cellist, Orlando Joplin, who will be playing a selection of Bach Suites. The proceeds from this concert will all go to the church's fabric and repairs fund. The third and final concert will take place on 10 January, when the audience will be able to enjoy the Octave voice ensemble singing a variety of music in different styles More details are to be found elsewhere in the Link. Tickets are available from Mrs Maartje Rondeboom (tel. 01473 658024) and Mr Nigel Coleman (tel.01473 657191).

Christmas Services at Offton will be held as follows: –
21 December at 10.00 am - Annual Carol Service to be followed my mince pies and wine
25 December at 10.00 am - Short 30 minutes Christmas Service and Communion
28 December at 11.00 am – Communion Service

The PCC hopes to welcome many families to the Christmas services. Carol singing will be led by the Benefice Choir which is always looking for new members. So if there are singers out there who would like to join the choir for some Christmas carolling, please contact Mrs Mary Carter whose details can be found on the back cover.

On 3 January 2009, the final Rector's Plate Indoor Bowling Competition will be held throughout the day in the Needham Market Community Centre. Indoor bowlers from around the region will know all about this event. As this will be the last competition after 20 consecutive years, we hope that there will be a great turnout of both competitors and supporters. As always, the kitchens will be operating to provide tea, coffee, bacon sandwiches etc, and the bar will also be open. Proceeds will go to our church funds.

Work in Progress

Visitors to the church will have noticed on-going structural work by contractors. The PCC has to maintain the church for future generations, and to comply with the 5-yearly survey of the church that is done by specialist architects who are appointed by the diocese. The exposure of the foundations on the south side of the church is to allow damp on the south wall to dry out. This is likely to take several years.
The cost of the work for the present schedule will be approx. £16,000, which is why your donations at services and other fund raising activities are so important. This money has to be found in addition to the annual Parish Share that the church has to raise for the Diocese; this year that amount is £7,000 and is likely to be raised by a further 5% for 2009. So please support the many activities that we organise to help raise these large amounts. Another full house for the concert on 29 November will help considerably.
Church Fact File

Offton church is fortunate to have an old oak lectern that is carved in the shape of an eagle with out-stretched wings. Our particular Eagle Lectern was given to the church in 1885 during the time that Rev Thompson was the resident vicar and who did so much for the restoration of St Mary's Church, Offton. The lectern is used to support a large church bible from which lessons are traditionally read. However, with our informal approach at Offton church, the reader will usually use his/her own bible to read from. Eagle shaped lecterns are commonly seen in Christian churches and cathedrals. The eagle is highly symbolic on two counts. Firstly, it symbolises St John the Apostle. In religeous art, John is often depicted with an eagle. As one of Jesus' 12 apostles, John is credited traditionally credited with writing several works in the New Testament, namely: the Gospel of John, the Epistles of John, and the Book of evelation. Why not come and take a look at our eagle lectern for yourself and reflect on what it symbolises.

Barking Pre-School (Registered Charity 1020882)
Thank you to everyone who supported our Christmas shopping evening on the 6th November, the evening was a great success and was enjoyed by everyone who attended. We also have our Christmas Fayre on the 13the December which starts at 11am until 1pm, the stalls will include a cake stall, tombola, name the teddy bear and the pre-school staff will be running a craft table for the children which is always lots of fun. We will also have our Grand Prize Draw, which has prizes donated by local companies, this year we have a Pressure Washer donated by Bosch, Stowmarket, 2 rounds of golf at Fynn Valley Golf Club, Witnesham, plus many more fantastic prizes. Please come along and find out what other great prizes there are to win. We look forward to seeing lots of people there.

Children can start pre-school from the age of 2 ½ and from the term after their third birthday, the government funds the sessions. The pre-school is open every weekday morning from 9.30 until 12 noon during term time and children can attend any number of sessions per week (space permitting). Our staff are committed, enthusiastic, well trained and work hard to organise a wide variety of fun and educational activities including crafts, cooking, music, story telling and construction. We have many toys and activities so there are bound to be something to capture each child's imagination.

If you would like a place for your child please contact us. We are more than happy to invite parents/carers along to see who we are and what we do. Contact either Veronika Pryke (our pre-school leader) on 01473 658368 or Hayley Aldous on 01473 657515.

From: PC David Clark
our
Community Beat Officer
Tel: 01473 613500
Safer Neighbourhoods



Mid Suffolk South Team
Mid Suffolk District Council Offices,
131 High Street Needham Market Suffolk IP6 8DL

http://www.onesuffolk.co.uk/safersuffolk

Hello again ,

Crimes of Interest - no crimes to report
We are still suffering with spates of thefts of domestic heating in the general area and thefts from motor vehicles frequently left unlocked

Its that time of year
This is the time of year when our thoughts turn to buying presents ready for Christmas.
Every year we get reports of thefts of Christmas presents from vehicles left unattended in car parks or driveways.
Please do not leave items like Christmas presents in your vehicles and in particular on display, it takes only a matter of seconds for a theft to break the window and steal them

Don't give a thief a happy Christmas this year

Do you know someone who needs a hand?

Home Shield is a project run with the Suffolk County Council and other agencies to identify vulnerable persons who may have difficulty in managing in their own homes affecting their quality of life.

If the person agrees a co-ordinator will call and help with many aspects including:
Help claiming benefits
Income and finances
Basic needs such as heating and food
Safety and security in the home

If you have someone in mind who may benefit from this service then please contact the below named officers

I hope you have all had a wonderful and safe time over the festive period - please remember that the bad weather is with us and if you are driving particularly early in the morning the roads can be very icy – there have as usual been many minor accidents over the recent period – most of which could have been avoided just by taking a few simple precautions checking that your lights are clean and working correctly
not moving off before the windscreen is clear by slowing down and driving according to the conditions.

If you have any information or would like any advice on police matters PCSO 3155 Sian Uttley or myself would be more than happy to discuss this with you Our contact telephone number is 01284 774100

Our e mail addresses are sian.uttley@suffolk.pnn.police.uk or david.clark@suffolk.pnn.police.uk
Please remember that there are occasions when we are on rest days for 4 days so if your call is of an urgent nature please ask to speak to any officer on duty.

Thanks very much PC 466 Dave Clark



Somersham Cycle Speedway

October started with the East Anglian Senior Final at Hethersett on the 4th where Gary Brown provided the Somersham interest, scoring 17 points and finished 4th after losing a run-off for 3rd place with ex-Star Josh Brooke.

3 days later it was the Kesgrave Club Championship which was won by Dan Croft, with Barry Copping scoring 14,the same as Gary. On the 11th it was the South-East Division 1 Riders Championship at Norwich where Gary & Barry would don their Kesgrave shirts. In an event won by ex-Star Adam Peck, Gary once again recorded a 4th place finish, this time scoring 16 points whilst Barry could only manage 8 points from 4 completed rides as he did not take his final ride after picking up a hand injury when falling trying to avoid the already fallen Hethersett rider Ben Collins.

The final 2 rounds of the South-East Grand Prix took place on successive days(18th at Hethersett & 19th at Ipswich) and there was Somersham involvement on both days. At Hethersett Steve Copping provided the only Somersham interest in the Senior category, scoring 8 points in the qualifying heats before finishing 3rd in the Final. The following day at Ipswich Joe Hodge provided the Somersham interest in the Under 10 age group. Despite being slow from the start, Joe pulled off some great dives in the heats on his way to 13 points and a place in the "A" final, but when he tried it again in the final he was not so lucky and hit the dust. Gary provided the Somersham interest in the Senior category and was unbeaten in the heats, going on to win the senior final and the overall championship.

The International Weekend on October 24th & 25th closed the season for the Edenton club in the USA and the Copping brothers travelled over as part of this. On the 24th the American style races opened the proceedings and the brothers were the only riders in the Leon Nixon Catering Senior Men's race staged over 25 laps of the 160 metre American track with a 5 minute break after lap 13.Barry won the race ahead of Steve who was lapped in the closing stages. The action then shifted across to the International track for a Pairs event sponsored by Chowan Hospital and the rain fell throughout that event where Barry and his partner Jessica Gilbert finished in a 3 way tie for 2nd on 30 points, Barry scoring 16 of those. Meanwhile Steve and his partner Logan Byrum, who had won the event last year with Sheffield rider Jamie Brown, finished 5th with 29 points of which Steve scored 16. The following night the Team Competition, sponsored by the Chowan-Edenton Optimist Club, saw the same formula used as in league racing in this country. The 2 teams were named after Edenton local sponsors, Phelps Logging and Smith Heating & Air. It was the Smith team containing Steve(who scored 16 points) triumph in a last heat decider over the Phelps team containing Barry(who scored 14) by 90 points to 88.The Individual competition closed out the weekend and Barry & Steve scored 16 and 15 points respectively to finish in 5th & 6th positions. Back in England Gary rode in the East London Old Masters event on the 25th, scoring 16 points.

The Somersham Club Championship closed the season on the 2nd November. The event was in doubt until a free date in November was found, and then persistent rain leading up to the meeting tried its best to cancel proceedings. Although it was a bit soggy going up to the first bend, the track actually rode extremely well and didn't dampen the racing. With several key riders failing to support the meeting some Kesgrave juniors were invited, and young Panther Pierce Bacon was certainly glad about that! He finished top dog after an exciting final featuring the top 4 scorers.

Somersham's 9 year old Joe Hodge headed the qualifiers, and lined up alongside Bacon in the final. Joining them on the grid was top Somersham rider Gary Brown, but under the handicap system he would have to do an extra lap. Completing the line-up was 2007 champion Steve Copping - starting on the back straight. The first attempt was sportingly stopped after Hodge bizarrely lost a shoe, but in the rerun Bacon shot from the tapes to take the lead. Hodge pressured right to the finish but could not find a way past. Copping and Brown were left to reflect on how much progress the youngsters have made this season.Ironically Brown was the only rider to take a fall in the qualifiers. He ran out of track in heat 6 as all 4 riders approached the finish at the same time. It suggested the handicaps were spot on for this race!

RESULTS
A Final: Pierce Bacon(Kesgrave Junior), Joe Hodge,Steve Copping, Gary Brown
B Final: Harry Swallow(Kesgrave Junior), Charlotte Hodge(sister of Joe Hodge), Barry Copping, Roy Brown(father of Gary)
C Final: Daniel Leggett, Martin Berry, Luke Gifkins(Kesgrave Junior)

The British Indoor Championships on 29th & 30th November will close the season as far as Steve & Barry are concerned. These will have probably taken place by the time you read this so there will be a report on this in the next issue.

That's it for now it. Steve Copping

Somersham Football Club - Youth Under 12s
Last season saw us finish sixth in our first season of league football quite some achievement really, all the boys re signed for the new season and we've set our sites on a top 3 or 4 finish.

The new goals arrived early October and Radio Suffolk's James Hazell officially opened the new pitch before another large gathering of supporters.

The boys are starting to find their feet on their new pitch but the majority still have another gear to go.
Results
07/09/08 Woodland Colts H Won 10 - 0
14/09/08 Barons Youth A Won 2 - 1
21/09/08 Chantry Grasshoppers H Won 4 - 2
28/09/08 Cornard Cynamos A Draw 1 – 1
19/10/08 Stowupland Falcons H Won 2 – 1
02/11/08 Whitton Sports Centre H Won 3 - 0
As I write we sit in second place with the meanest defence in the league but with some tough fixtures on the horizon our feet are firmly on the ground.
Thanks for all the support and best wishes for Christmas and the New Year from all at Somersham Youth. Martin


SOMERSHAM PARISH COUNCIL
DECEMBER/JANUARY 2008
Forthcoming Parish Council Meetings
Wednesday 3rd December 2008
Wednesday 7th January 2009
Wednesday 4th February 2009
All meetings commence at 7.30pm in the Village Hall and the press and public are welcome to attend.
Affordable Housing
Following the appointment of Orwell Housing Association as a partner to provide an affordable housing scheme in the village, an initial meeting has been held between Orwell Housing Association, Mid Suffolk District Council and parish council representatives on the first stage of the procedure which is to identify options for a suitable site for the development. An affordable housing development can be constructed outside the settlement boundary, but it must abut the boundary. Three locations were identified as possible options, but for each site there could be difficulties could arise, mainly with access. A Planning Officer from Mid Suffolk attended this meeting and her report is now awaited on the viability of these options.

Telephone Kiosk in Main Road
Following the parish council's approval of 'sponsoring' the payphone on Main Road the contract has now been completed and sent to BT. Once the contract is signed by BT and returned, the parish council will be invoiced for the first annual payment of £500 which is the contribution required by BT towards its upkeep and maintenance. The payphone will be converted from cash to card only payment which again is a condition laid down by BT. This was the only option open to the parish council if the payphone was to remain, which in effect means that the village will be paying for the maintenance of this historic telephone kiosk. The parish council has taken this action to safeguard the payphone because of its possible benefit in emergency situations ad historic interest. In view of the contribution by the people of Somersham the parish council hopes this village amenity will now be treated with respect. If anyone sees the kiosk being abused or vandalised please report it immediately. This sponsorship arrangement will be reviewed each year.
Budget 2009/10
Over the next couple of meetings the parish council will be setting their budget and precept for 2009/2010. Please contact any of the councillors if you have any, any suggestions or requests you would like the council to consider.

Safe and Secure
Mid Suffolk District Council has launched a scheme ro assist homeowners secure their homes. It is a free home security upgrade for homeowners and private tenants living in Mid Suffolk who are over 60 and/or receiving benefits and/or are disabled. The Safe and Secure Scheme covers door chain/viewer, outdoor security light, windows locks, upgrading to more secure door locks, smoke detector, etc. For more information about this scheme please contact Private Sector Housing on 0845 606 6174.
Council vacancy
Somersham Parish Council has a vacancy for a councillor. Applications are welcome from anyone aged 18 or over who is on the electoral register. The only mandatory duty of a councillor is to attend meetings of the parish council, but it gives councillors an opportunity to become involved in community life. With the change to unitary government coming to Suffolk there will be a greater opportunity for parish councils to take on additional powers if they so wish. If you would like further information on the role of a parish councillor please contact any of the current councillors or the clerk.
Finally on behalf of us all at Somersham Parish Council may I take this opportunity to wish you a Very Merry Christmas and a peaceful and successful 2009.
Janet Clarke Tel. No. 01473 830398
Clerk to the Council E-mail: janetinclaydon@aol.com
Elmsett Pre-School Playgroup
At Elmsett Preschool our aim is to provide a play-based 'curriculum', where children learn and develop in their own unique way supported by staff. Activities and resources are child-centred and initiated by the children themselves, in addition to a range of imaginative adult led activities for small groups. The importance of a play-based approach is emphasised in the Early Years Foundation Stage (EYFS) framework for children in all early education settings, including preschools, nurseries and reception classes.

This term we are learning about Night and Space, with activities including making planets, Moon pizzas, splatter painting, junk model space vehicles, shape aliens, as well as exploring Alien slime! We are also looking forward to helping Santa wrap up presents in his workshop and exploring Christmas colours, sequins & lots of glitter as we make decorations and cards.
Stepping Stones
Stepping Stones is a friendly group where mums and dads can bring their babies and young children to play games, do crafts and play with our fab range of toys, plus tea/coffee and a friendly chat for parents. So join us on Wednesday mornings 9.15-11.00 Elmsett Methodist Church (during term).
December/January Activities
3rd December: Painting giant Xmas tree, baby gym (tents and tunnels)
10th December: Decorating the Christmas tree, and making Christmas cards
17th December: Christmas party, with our special guest Father Christmas

7th January: Making snowmen/snowflakes fun with glitter
14th January: Baby gym (tents and tunnels)
21st January: Sticking and gluing with pasta
28th January: Decorating yummy biscuits
We would like to wish all of the Stepping Stones and Pre-School children a very Happy Christmas and a fun filled New Year. We would also like to thank all of the parents and villagers for their support during the past year, and wish you all a very Merry Christmas.
SOMERSHAM PRIMARY SCHOOL
There's a bang, fizzle, crack and whizz! all around as we write to you of Somersham School's latest news, knowing that such familiar sounds are a prelude to the festive season which will be in full throes when this magazine falls through your letterbox. Many Somersham School pupils have demonstrated that while they appreciate that Maths is Marvellous - as shown to parents in an enlightening afternoon earlier in the year, their creativity is not to be overlooked - a Papier Maché Nativity workshop enabled them to demonstrate their artistic skills on two Saturdays at Flowton church, hosted by the ever-enthusiastic Peta Whiting.
Clarinet and Badminton clubs continue alongside the bi-termly French Film Club which in October showcased the talents of actress Audrey Tatou and offered pupils sirop de menthe by way of refreshment. Only weeks after offering Harvest gifts at Somersham church, many pupils and parents spent their half term rehearsing Christmas wrapping by preparing shoe boxes for underprivileged children overseas c/o the Samaritan's Purse charity. Pupils of the Week have been entered in to a weekly raffle to win day passes kindly donated by Play 2 Day of Martlesham which is an added incentive to all children to work even harder than they already do!
And while our hardworking staff unearth the costumes for this year's Nativity (many of which were worn by some of our pupils' parents @ 30 yrs ago!) our pupils have not been resting on their literary laurels. After Year 6's sensational book reviews as part of the Kate Greenaway Awards culminating in a visit to BBC Radio 4 where 3 lucky pupils interviewed the winning author/illustrator, Emily Gravett in July, we are delighted to announce that the author has, on the cusp of a tour of the States agreed to officially open our newly refurbished, completely revamped library next May! The author will not only meet the Hawks who reviewed Little Mouse's Big Book of Fears but will engage in a workshop with the whole school based on one of her books. We feel such a coup is incredibly exciting for our little, Suffolk school.
After an industrious and very exciting year - the first academic year for Lynette Allison as our Head, all staff, Governors and fundraisers FOSS wish all of our local, supportive community a very Merry Christmas and Happy New Year!
To visit the school please contact our School Secretary, Mrs Maguire on: 01473 831251 or visit our website: www.somersham.suffolk.sch.uk
Friends of Somersham School
As I write, we are in the process of finalising the arrangements for our Christmas shopping evening, held on 14th November. This was our first shopping evening and so we were delighted that there were so many traders who wanted to come along. In fact, we ended up with a reserve list as we couldn't fit everyone in. We would also like to thank the stall holders for their generosity in providing prizes for a great raffle. Well done to all the winners! We hope that everyone who came had a lovely evening, enjoyed the homemade mince pies and sausage rolls and managed to purchase plenty of gifts for Christmas.

The family Christmas photos were taken on 22nd November. We hope everyone is pleased with the results and that the children enjoyed the craft session.

In October we held our AGM and are delighted that we have retained most of our members. We have 13 on the committee with Jenny King remaining as Chair, Wendy Hiskey as Treasurer and Steve Maitland as Secreta;ry. Disappointingly, there were no new faces this year, but any parents who couldn't make it to the AGM and would like to offer support for their children's primary school will always be very welcome

At the AGM, we summarised our year's events and spending.
These are some of the events we held:-
*Body Shop evening *Christmas photos and bazaar *Webb Ivory orders
*Christingle raffle and refreshments *Panto raffle *Beetle Drive *Disney Disco *Archive film evening *Wild West Fete *Leavers disco *Fashion Show
Of notable success were the popular archive film evening, the fete which was fantastic and the fashion show which was extremely well supported.

For those of you who come along to our fundraising events and support us, every raffle ticket purchased and every donation received goes towards benefiting children at the school. Here are just some of the things that we were able to purchase last year with the money raised:-
*Garden Equipment *Reluctant Readers scheme *Donation for Tutankhamun trip *Renewal of subscription for 'First News' *£1000 donation for the library *Donation for Rivers Trip *Contributions to workshops and theatre groups *Donations for residential school trip for year 5/6 at JCA

We are already thinking towards events for 2009. We are likely to be holding another archive film evening in April so if you are interested let
us know. We have even set the date for our summer fete, which will be on Saturday, 20th June.
Finally, for a few other ways you can help us raise extra funds – if you get a new mobile phone for Christmas or in the January sales, please drop your old one into the school for recycling. We will also recycle your old printer cartridges and we collect all of the supermarket tokens.
You are very welcome to come along to the Christingle at the church on Friday 5th December at 6pm – refreshments and raffle and small gifts to buy in the school hall afterwards.

We wish you all a very merry Christmas and a happy new year!
Clare Davies (tel. 832569)

Somersham Baptist Church

Worth the wait
America has a new President, but we must wait until Jan 20th for him to take over. It has been 40 years since the assassination of Martin Luther King (April 4th 1968) and black America has been waiting for this day, that some thought would never come, waiting for justice and freedom.

2000 years ago a priest was the first to know of the fulfilment of another long promised hope, the birth of a new king - Jesus. A hope, generated back in the Garden of Eden (Genesis 3:15) and slowly becoming stronger throughout the Old Testament, until the announcement to Zechariah by the angel that his son was to be the one who would prepare the people for Jesus the Messiah. Since the death and resurrection of Jesus, Christians down the centuries have waited for his return in glory, also waiting for justice and freedom on an even greater scale.

Many hopes lie upon Barack Obama's shoulders. Some will, no doubt not be realised. But those that lie upon the shoulders of Jesus certainly will. While we wait for Christ to finally take his office upon earth, we work to implant his policies. Waiting time does not mean idle time. As Christians meet together, we look not only to learn from Jesus but to obey Jesus. However long or short the wait, it will be worth it. Why not wait with us?

Please be assured that you will receive a very warm welcome as we celebrate the birth of Jesus with our Christmas Eve Candlelight Carol Service at 6.30pm, Wednesday 24th December

New for 2009. A Light Lunch 12.00 Noon on Thursday 24th January. We hope this will be a welcome break from eating at home and provide an opportunity to mix. If this proves popular we shall attempt to make it a regular monthly 'feast'!
14 years of Independence on Feb 1st Guest speaker Timothy Alford
After many years of support from other local Churches, Somersham Baptist had been strengthen enough to manage her own affairs, for these past 14 years years we give thanks to God.
Regular Sunday Morning Programme (You are welcome to join us for all or part of the morning).
10.00-10.30 Prayer Meeting (Communion 1st Sunday)
10.45-11.15 Bible Study
11.30-12.00 Worship
12.00-12.30 Sermon
Other Meetings
Children and Young People (During term time) Wednesday Club: 6.30-7.30pm for primary school children; 14+ Friday's: 8.00-9.30pm Year 9 upwards.
Meetings for Ladies:
Women's Fellowship: 2.30pm Friday 12th December and 9th January.
Friends and Neighbours: 7.45pm Monday 15th December and 19th January.
Contact Mark if you need transport.
Meetings are held at the Baptist Chapel, Chapel Lane, Somersham IP8 4QE.
Pastor Mark Newcombe, 01473 831940, mobile: 07930543583, email: m.newcombe940@btinternet.com

Many of our readers will be coming together to sing carols in our churches this Christmas and so this poem by John Betjeman seemed an appropriate way to round off this seasonal edition of the Link. We hope you enjoy it and agree that a little Betjeman never comes amiss!
Let's praise the man who goes to light
The church stove on an icy night
Let's praise that hard-worked he or she
The Treasurer of the PCC
Let's praise the sleazier of the aisles
The nave and candlesticks and tiles
Let's praise the organist who tries
To make the choir increase in size.
Or if that simply cannot be
Just to improve its quality.
Praise the ringers in the tower
Who come to ring in cold or shower
But most of all let's praise the few
Who are seen in their accustomed pew
Throughout the year whate'er the weather
That they may worship God together
These like a fire of glowing coals
Strike warmth into each other's souls
And though they be but two or three
They keep the church for you and me
CHURCH SERVICES in our 8 linked parishes

If you think there may be a mistake in the rota please contact your Churchwarden.
Please contact a Churchwarden if you think that there is a mistake in the listing. Thank you.
7th December 2nd Sunday of Advent

| | | |
| --- | --- | --- |
| Family Communion by extension | 9.00am | Flowton |
| | | |
| --- | --- | --- |
| Holy Communion | 9.30am | Willisham |
| Holy Communion | 11.15am | Somersham |
| Morning Prayer | 11.15am | Battisford |
| Evening Prayer | 3.00pm | Barking |
14th December Advent 3

| | | |
| --- | --- | --- |
| Holy Communion by extension | 8.00am | Flowton |
| Toy Service | 10.00am | Somersham |
| Holy Communion (Canon S Richie) | 10.00am | Bricett |
| Holy Communion (Canon S Richie) | 11.15am | Barking |
| Carol Service | 3.00pm | Willisham |
| Evening Prayer | 6.30pm | Offton |
| | | |
21st December Advent 4

Carol Service
10.00am
Offton

Holy Communion

by extension

11.15am
Battisford
Carol Service
3.00pm
Somersham
Carol Service
3.00pm
Ringshall
Carol Service
3.00pm
Barking
24th December Christmas Eve
| | | |
| --- | --- | --- |
| Carol Service | 5.00pm | Battisford |
| Traditional service of carols by Candlelight | 6.30pm | Flowton |
| First Communion of Christmas (Rev M Wainwright) | 11.30pm | Ringshall |

25th December Christmas Day
| | | |
| --- | --- | --- |
| Holy Communion by extension | 8.00am | Flowton |
| Family Service and Communion by extension | 9.30am | Bricett |
| Carols and Communion by extension | 10.00am | Offton |
| Family Service | 10.00am | Battisford |


28th December

| | | |
| --- | --- | --- |
| Morning Prayer | 10.00am | Barking |
| Holy Communion (Rev S Ritchie) | 11.00am | Offton |
| | | |
4th January
| | | |
| --- | --- | --- |
| Family Communion by extension | 9.00am | Flowton |
| | | |
| --- | --- | --- |
| Holy Communion (Rev. S Ritchie) | 9.30am | Willisham |
| Holy Communion (Rev. S Ritchie) | 11.15am | Somersham |
| Morning Prayer | 11.15am | Battisford |
| Evening Prayer | 3.00pm | Barking |
11th January

| | | |
| --- | --- | --- |
| Holy Communion by extension | 8.00am | Flowton |
| Family Service | 10.00am | Somersham |
| Holy Communion | 10.00am | Bricett |
| Holy Communion | 11.15am | Barking |
| Family Service | 11.15am | Battisford |
| Evening Prayer | 3.00pm | Willisham |
| Evening Prayer | 6.30pm | Offton |
| | | |
18th January
| | | |
| --- | --- | --- |
| Holy Communion (Rev C Everett) | 8.00am | Somersham |
| Family Service +Baptism | 10.00am | Offton |
| Family Service(Rev M Wainwright) | 10.00am | Barking |
| Holy Communion | 11.15am | Battisford |
| Evening Prayer | 6.00pm | Flowton |


25th January

| | | |
| --- | --- | --- |
| Morning Worship for all ages | 10.00am | Flowton |
| Morning Prayer | 10.00am | Barking |
| Holy Communion | 11.00am | Offton |
| Evening Prayer | 3.00pm | Somersham |
1st February

| | | |
| --- | --- | --- |
| Family Communion by extension | 9.00am | Flowton |
| | | |
| --- | --- | --- |
| Holy Communion | 9.30am | Willisham |
| Holy Communion | 11.15am | Somersham |
| Morning Prayer | 11.15am | Battisford |
| Evening Prayer | 3.00pm | Barking |